Sephora's New Under $20 Skincare Goods Include A Relaunched Fan Fave — EXCLUSIVE
Khalea Underwood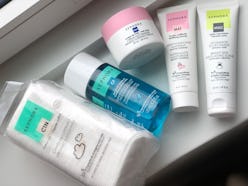 Sephora, in all its black- and white-striped glory, is heaven for anyone who's into beauty. But let's be real: sometimes, the cosmetics, hair, skincare, and fragrance emporium can be a little overwhelming, especially if you're used to adding-to-cart online. There's one line that diehards know, love, and save a little bit of cash on: the store's in-house brand. The Sephora Collection Clean Skincare line, which launched in March 2019, is no exception. If you talked to someone who isn't familiar, they might be a little skeptical: Everything in the line is "Clean at Sephora"-seal approved. Everything comes in generous sizes. And everything is under $20. And on Tuesday, June 25, the line expands to include goodies like a Super Matte Moisturizer, Firming Night Cream, and Bright Skin Exfoliating Scrub.
"We have the breadth of assortment, but we recognize that everyone can't afford an $80 moisturizer," Beth Hayes, vice president of Sephora Collection, tells me. "Not everyone wants to spend $30 on a lipstick. So we're the most inclusive brands in terms of price point." And while fans are more than likely familiar with Sephora's massive color collection, skin was an easy — and logical — next step. "We're seeing client interest very much shift into skincare, wellness, and ways to take care of themselves," she continues. "The younger generation understands that your makeup looks better when you're taking care of your skin underneath. Clients don't just want to know what's in their skincare, in terms of ingredients. They want to know how it'll make their skin feel, too."
The collection already contains products like Clean Skin Gel - Cleanse + Tone (made with beet molasses) or the Nourishing Moisturizer - Hydrate & Repair (with avocado, rosehip, and marula oils), which are on-par with some of the pricier offerings carried at the store. That doesn't mean that this line is meant to compete against the expensive ones, though. "Sephora Collection compliments, not competes," in Hayes' words. These products are positioned as entry-level prestige, in a way: the company hopes that consumers who shop mass brands will discover Sephora Collection, and then work their way up to prestige lines like Drunk Elephant.
While consumers discover the line, Hayes is definitely doing her fair share of snooping: she reads all client ratings and reviews on-site. "Sometimes we use those ratings and reviews to change things," she says. So be nice!
Ahead, see — and shop — the collection's newest additions.