This Unexpected Nail Polish Color Is Quickly Becoming Selena Gomez's Go-To Shade
Jon Kopaloff/Getty Images Entertainment/Getty Images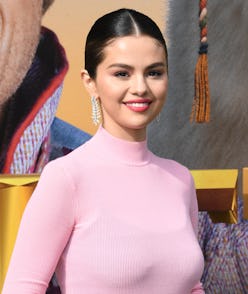 Selena Gomez fans know that the singer is rarely caught without her nails done. She provides basically endless nail inspo, so it's no wonder people take notice when she debuts a new color or design on her fingertips — and her latest seems to be one she can't get enough of. Selena Gomez wore white nails on The Tonight Show on Jan. 13, which was not the first occasion she's been seeing wearing the stark shade. In fact, it seem like the Rare artist found a color worth keeping for 2020, and it's time to take notes on exactly how she styles it.
Truthfully, it's easy to see why Gomez has had a recent love affair with white nails: It's a crisp winter hue that fits the season, matches just about everything, and is eye-catching without drawing too much attention. Although it was slightly heartbreaking to see the soft, glittery nails she wore for the "Rare" music video go, it wasn't as painful when longtime nail artist Tom Bachik replaced them with a winter white for the Sat. premier of Dolittle.
And to prove the white can match anything, the voice actor for the upcoming movie graced the green carpet wearing a black, voluminous Givenchy skirt and a bubblegum pink ribbed turtleneck. But most notably, the nails highlighted the *blinding* sparkle of Messika Paris Jewelry's Wild Moon ring Gomez wore on her pointer finger.
Only a few days later, when Gomez's nails popped up on Bachik's Instagram again, they were still a crisp white. The singer visited Jimmy Fallon on Mon. night where she looked straight from the '60s in her flipped-out ponytail and pink, rhinestone-trimmed mini dress. Once again, it's clear to see why Gomez stuck to the color; it worked perfectly with the singer's go-go-girl aesthetic and provided a crisp contrast against the poppy shade of her ensemble.
Whether or not Gomez continues to show just how adaptable white nail polish is, you can start adopting the trend yourself. Unfortunately, Bachik didn't give much information besides tagging the brand The GelBottle Inc on his Instagram, so you may not be able nail the exact shade (pun definitely intended) – unless you're seriously good at guessing (the brand has over 400 colors). But no need to sweat — below are a few options that'll surely do the trick.