Scarlett Johansson's Engagement Ring Has Made Its Debut (& It's Huge)
Amy Sussman/Getty Images Entertainment/Getty Images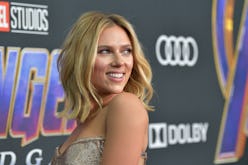 Now that it's been a couple months since she announced her engagement, Scarlett Johansson is finally showing off the ring. The actor attended Comic-Con over the weekend and the highly-anticipated news of Marvel's new Black Widow movie took a backseat when fans caught a glimpse of her bling. Johansson's engagement ring is a whopping 11 carats and worth more than a Ferrari.
In May, the Avengers: Endgame actor's publicist confirmed that she and Colin Jost, who you may know from Saturday Night Live's "Weekend Update," had gotten engaged after two years of dating.
Aside from the occasional red-carpet appearance, the two have kept their relationship mostly on the down-low. The actor has herself been keeping a low profile, reveling in her bridal bliss behind closed doors.
Finally, Johansson made an appearance in San Diego on Sat. She was slated to join the Comic-Con stage alongside Rachel Weisz to confirm that the Marvel film Black Widow was actually happening — superhero enthusiasts were happy about that. Fashion enthusiasts were happy about another thing: that ring.
It was difficult to see past the colossal rock on Johansson's finger, a diamond big enough to make you wonder how her dainty little finger will support it for the rest of her life.
The gem is as unique as engagement rings get. It's sort of brown in color and cut into a pear shape. There's speculation that it's by Taffin's James de Givenchy (yes, nephew of that Givenchy), Page Six reported.
The dazzling diamond is affixed to an eccentric curling black band. It's reportedly 11 carats (to put that into perspective, Meghan Markle's is estimated to be 6.5) and worth $400,000. It's so big that it literally takes up the entire space between knuckles. Seriously, where is the actual wedding band supposed to go?
Sadly, there's no known date of when we'll know. The couple has kept all details surrounding their nuptials a secret, too. If it's going to be as private of an affair as Johansson and Jost's relationship has been thus far, then it's safe to assume that none of us will actually know until the "I dos" are over and everyone's gone home.
In fact, we'll probably find out about it the next time Johansson tries to get away with going to some low-key outing wearing bling the entire length of her finger. Stay tuned to see.