Sarah Jessica Parker Dressed Up As Carrie Bradshaw & Wore The Perfect (Shoppable) Heels
Snap Stills/Shutterstock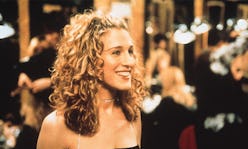 A New York City writer, a well-seasoned shoe collector, and the definition of a style icon, Sex and the City's protagonist is still relevant decades later. And although you won't be getting a SATC revival anytime soon, Sarah Jessica Parker made a brief comeback as Carrie Bradshaw and fans can't get enough. The actor returned to her flashy roots in an Instagram video on Tues., confirming Bradshaw's style is just as strong in 2019.
The beloved HBO series ran from 1998 through 2004, concluding its journey with two feature-length films in 2008 and 2010. Since Parker publicly stated that a SATC 3 would likely never come to fruition, many hopefuls had given up on the thought of ever seeing a new Bradshaw look. That all changed when SJP posted a video promoting Stella Artois' #PourItForward campaign.
In the short clip, fans see Parker dressed as Bradshaw wearing one of her characteristically over-the-top ensembles. The look featured a glistening, gold blouse, an embellished belt, and a tutu-inspired skirt that paid special homage to her outfit from the show's opening credits. In classic Bradshaw fashion, she finished it off with a pair of white, open-toe lace pumps by Gianvito Rossi.
Bradshaw was known for her closet full of Manolo Blahnik heels, often putting shoe shopping ahead of other basic, financial needs. While each pair of pumps possessed its own dazzling details, her shoes all came complete with a pop of color, a touch of sparkle, or a unique design element.
Rebranding yourself as 2019's very own Bradshaw may not be totally possible, especially since you likely don't have an award-winning wardrobe stylist constantly at your beck and call. However, adding a few Bradshaw-inspired shoes to your collection is a viable first step. Below, shop SJP's most recent pumps, as well as a hand-picked selection of shoes that her character wouldn't be able to resist.
Shop The Look