Sally Hansen's New Nail Polish Line Offers A 16-Free Formula For Drugstore Prices
Sally Hansen/Instagram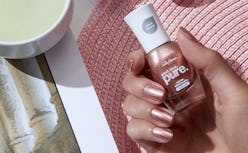 If you're into your nails — or have just bought nail polish online in the last year — then you're well aware of the clean nail polish trend. It's one of the first things you'll spot when shopping for a new bottle, whether you're interested in buzzy indie darlings or long-established, go-to brands. Descriptors like "3-free", "5-free", and "8-free" appear as often as baby pink shades, with their meanings just as hazy and nebulous (but more on that later). This means that you probably won't be surprised by Sally Hansen's new good. kind. pure. line, an entirely vegan nail polish collection that's just arrived at Target.
However, those Target prices may make you jump for joy. Sally Hansen's good. kind. pure. line offers a 16-free formula, with each bottle retailing for only $6.79 a pop. The brand didn't start out with just a few colors, either; currently, there are 30 shades available in the line, and they range from shocking fuchsia to muted lavender.
"Good-for-you products are becoming increasingly more important to consumers across all categories – and fulfilling consumers' desires has always been at the core of Sally Hansen's innovation," noted Celia Tombalakian, vice president of Sally Hansen Global and U.S. Marketing, in a press email. "We are thrilled to introduce good. kind. pure., our first vegan, plant-based line of color and care that enables consumers to create a beautiful, clean manicure at home."
OK, pause. Back to that bit about clean nail polish. Here's the thing: When it comes to skipping out on allegedly toxic or generally unwanted nail polish ingredients, there's no set definition for what "clean" means, and each brand can use the adjective on their own terms. That said, Sally Hansen is very clear about which 16 ingredients were left out of its new line, and it includes what the nail community calls the "Toxic Trio", aka dibutyl phthalate (DBP), toluene, and formaldehyde.
So you can stock up on the brand's new vegan shades with the knowledge of exactly what's inside each bottle — and what was left out, for the sake of you and your nails. Ahead, the five new Sally Hansen good. kind. pure. shades to snag first.