Rouje Now Has Nail Polish — & Yes, It Includes The Perfect Red Shade
Courtesy of Rouje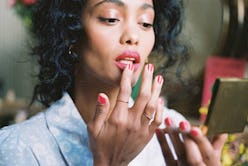 Is there anything Jeanne Damas can't do? The Parisian woman — who happens to have over 1.1 million followers on Instagram — has already achieved the highly sought-after je ne sais quoi in the form of her cult-favorite brand Rouje. Earlier this year, she entered the beauty world with a line of classic lipsticks. And now, she's expanding her repertoire with Rouje's Le Vernis de Rouje nail polish collection — and it's just as good as everything else.
At this point, you've probably become familiar with Rouje. With It girls around the world wearing the brand's effortlessly cool vintage-inspired clothes and accessories regularly, it can be hard to miss. After all, Rouje has made a name for itself by perfectly nailing the cool essence of French fashion. So when the label launched its Le Rouje de Paris lipstick collection earlier this year, it was no surprise that the brand captured the hearts of the fashion- and beauty-obsessed everywhere. And without a doubt, Rouje's new nail polishes will do just the same.
The new capsule features four shades of polish that'll fall seamlessly in line with the rest of your lacquers — and yes, a classic shade of red is (naturally) one of them. Available for $25, these vegan polishes are made without parabens, acetone, or sulfate, and will go with all of your outfits throughout summer.
The shades in the Le Vernis de Rouje nail polish collection — which is inspired by Damas and her beauty routine — will become some of your everyday favorites. For those who want to go bright with their nails, opt for Bohème, a pink coral that will complement a pair of denim blue jeans perfectly. Or, if you'd rather let the natural color of your nails shine, Nostalgique is a sheer pearl that'll add a subtle shimmer.
If you're feeling more dramatic, pair the deep burgundy Insolente with a dark lip for a head-turning beauty look you can wear year-round. And last but certainly not least, there's Effrontée, the vibrant and classic shade of red that will work for any occasion.
If you're eager to add a timeless, French touch to your beauty looks, shop the Le Vernis de Rouje collection below.