How To Style Your Slip Skirt For Fall, According To Rosie Huntington-Whiteley
Nicholas Hunt/Getty Images Entertainment/Getty Images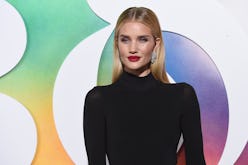 Rosie Huntington-Whiteley's Instagram account is a treasure trove of awe-inspiring design inspo, easy-to-follow beauty hacks, and perfect outfit ideas. She's even taken it upon herself to post weekly style roundups, which typically feature seven-plus amazing looks she wore throughout the week (thanks for that, RHW!). Though not technically a part of her #OOTD series, the slip skirt ensemble Huntington-Whiteley shared to her 'gram on Aug. 6 officially wins the award for best outfit of the week and probably of the month, too. Not only is it minimalist-approved, but the combo offers up an easy yet elegant solution to tackling transitional season.
If the fact that fall is right around the corner frightens you even just the tiniest bit, you'll want to focus your attention on the English model's stunning off-duty look right this instant. Autumn brings cooler temps (that's a given), but there are still those tricky in-between days with chilly mornings and warm afternoons, which make getting dressed, well, as confusing as the weather itself. But Huntington-Whiteley's here to serve up an easy-to-follow lesson in how to nail transitional dressing.
On Tues., the 32-year-old shared two photos of a slip skirt-and-white-top pairing that instantly had her 9.9 million followers stop mid-scroll. Quickly racking up close to 100K likes, one image shows Huntington-Whiteley lounging in a comfy chair, staring out what are presumably her living room windows, while another, slightly-blurry motion picture provides fans a close-up glimpse at her extra-chic outfit.
The slip skirt — which is cut in a classic '90s silhouette — is by Georgia Alice and features a striped pattern on a crinkled-satin fabric. The white twill cropped top is by none other than French fashion designer, Jacquemus. It has a tie-knot in the front, a plunging neckline, and oozes relaxed glamour, just like Huntington-Whiteley herself.
Each piece can easily be worn as a separate, like the slip skirt with a cropped cami — a combo perfect for those super-hot summer days — or the white cropped top with high-waisted jeans. But when styled together, the sleek closet essentials make for the most perfect transitional look you can wear for work and play.
So, don't even start thinking about packing away your go-to slip skirt just yet. Instead, prep for fall by shopping The Zoe Report's favorite white tops, all of which are guaranteed to team flawlessly with a silky midi or maxi skirt, below.
Shop The Look