Roshni Patel On The Dream Wardrobe Picks That Make Her Feel Her Best
LACI HAVENS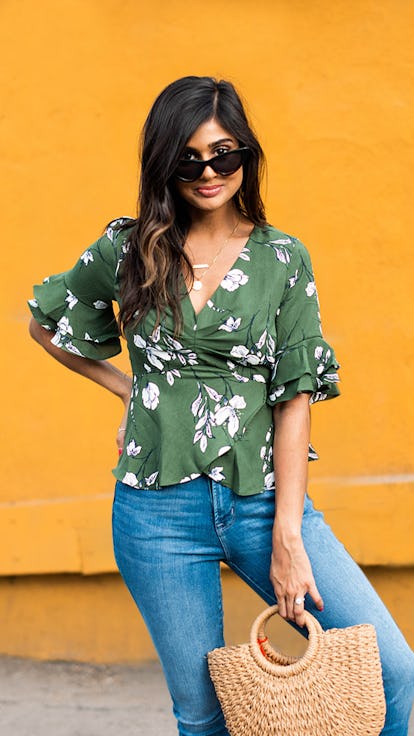 A true dream wardrobe is a constant work in progress. The pieces evolve as your style does, and when done correctly, the whole is definitely greater than the sum of its parts. Just ask Roshni Patel, an LA-based blogger and fashion expert whose covetable closet houses an endless source of feel-good style inspiration.
In partnership with Old Navy, we asked Patel to share some of her confidence-boosting style secrets. Her response? Find what makes you feel your best. "Think of pieces that make you happy in the long run, not just pieces that are trending right now," she says. "If florals are your thing, then invest in gorgeous floral pieces that will make you happy year after year!"
For Patel, that means building a collection of bright statement pieces that pair effortlessly with everyday staples — like her jeans. "I love pieces that are vibrant with lots of prints, as color makes me happy." Ahead, Patel shares her style secrets that prep her to feel good from the inside out when taking on a busy day in the city.
For Strolling Through West Hollywood
Patel wears Old Navy's Rockstar Jeans with Secret-Slim Pockets in Birch.
When headed through town with her Pomeranian pup Archer, Patel says, "I love a good peplum top with a pair of jeans." Finding go-to denim is a dream wardrobe necessity, and discovering Patel's ideal pair came down to fit and feel. "[The jeans] are extremely soft and fit like a glove! I am 5 foot 3, so I have a hard time finding jeans to fit me perfectly, but these were perfect."
The key to her perfect fit? Old Navy's secret-slim-pocket technology. The sewn-in pockets ensure a smooth silhouette that won't lose its shape — no bunching, no readjusting.
Patel wears Old Navy's Rockstar Jeans with Secret-Slim Pockets in Birch.
Feeling her best also comes down to one of Patel's unexpected self-care rituals: keeping a strong skincare routine! "Entering my 30s, I really wanted to be confident in my own skin and knew I really need to take better care of it," she says. "Every day, in addition to taking few key hair, skin and nails vitamins, I always cleanse my face in the morning and evening and finish off with my favorite toner and serum. I've already noticed a large improvement in my skin and feel more confident!"
This post is sponsored by Old Navy.