Rituel De Fille Launched A *Very* Limited-Edition Highlighter & It's Selling Out Fast
Rituel de Fille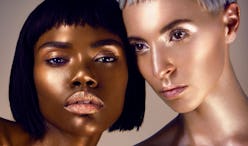 Exclusivity isn't a fashion concept that's often embraced in the world of makeup. When an eyeshadow palette sells out, it's restocked ASAP. When a limited-edition lipstick becomes a cult hit, it's often brought back by the brand. But Rituel de Fille's Metamorphic Highlighter is about as exclusive as you can get. Only one batch — yes, one — of each of the four highlighter shades was made to begin with. And, according to Rituel de Fille, these highlighters will be taken off the market on May 6 at 11:59 p.m. PT. Forever.
The Metamorphic Highlighter retails for $32, and just launched on April 19; which means these highlighters will only be on the market for about two weeks. Naturally, they're already selling out, too. Two of the shades — The Enchantress and The Siren — are gone for good. Luckily, that means you have two left to pick from; and they're as versatile as the sold-out shades. If you prefer a neutral highlighter, go with The Sorcerer, a metallic silver. And if you love Rituel de Fille's romantically moody color palette, The High Priestess is the one for you. Rituel de Fille describes it in the product description as a "cosmic lilac shift".
Though really, you need to see how the highlighter sparkles across cheekbones in the brand's Instagram video to comprehend how gorgeous and colorful it is. This is not a subtle highlighter you dust on for a bit of sparkle — the Metamorphic Highlighter's glow is intense.
The video also serves as an important reminder about the flexibility of Rituel de Fille's makeup products: You don't need to just use this highlighter on your cheeks. Dot the creme formula across your collarbones, lips, and nose; you can even use the Metamorphic Highlighter as high-impact eyeshadow. Wondering how one little highlighter can do all that? Rituel de Fille is transparent about the ingredients it uses in its makeup products — which doesn't include synthetic dyes and fragrances, parabens, phthalates, or plastic-based glitter.
And the only place to buy the Metamorphic Highlighter is on Rituel de Fille's website. Judging by how quickly half of the collection sold out, you should grab yours from the link below ASAP if you have your eye on this ethereal glow.