Rihanna's Fall-Ready Look Will Have You Shopping For Sweater Dresses ASAP
Kevin Winter/Getty Images Entertainment/Getty Images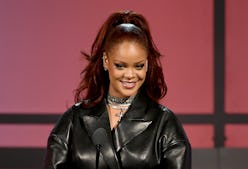 Is it too early for a sweater dress? Rihanna, wearing one by Nanushka, says no. The singer put her own spin on a piece from the brand's pre-fall lineup and you'll be eager to follow her lead on chilly evenings to come.
This Barbados-born pop legend has been a fashion icon for more than a decade now, but her style seems to have reached an all-time high since the launch of her own luxe line, Fenty.
Earlier in the month, she wore a fluff ball of pink feathers — courtesy of David Laport — to the Crop Over festival in the Caribbean. Before that, she debuted a pair of neon-yellow pedestal heels and a Louis Vuitton vanity box, which she toted from the airport as a purse.
Although her latest is equally stunning, it airs more on the subtle side than her recent parade of daring looks. Rihanna's beige Nanushka sweater dress is beloved by bold dressers like her and the more reserved alike.
On Tues., the R&B queen went out in Santa Monica wearing a slouchy knit maxi from the label's Pre-Fall 2019 collection. The cashmere-blend number oozed sophistication, with bell sleeves, a mock neck, thigh-high leg slits, and a belt held together with an earthy tortoiseshell ring.
She is Rihanna, though, so she wore it a bit differently than the model in Nanushka's lookbook, of course. Rather than wearing it to fit, the singer opted for one slightly bigger so that the belt hung around her hips rather than at her waist.
Instead of the chunky "tourist sandal" Nanushka originally styled the dress with, Rihanna paired hers with a barely-there, metallic-gold heel by Amina Muaddi. She carried the woven clutch by Bottega Veneta that's quickly becoming the it-bag of the season.
Designed with a '70s-inspired "nomadic aesthetic" in mind, according to the brand, this dress would make for a cloud-level comfortable fallback outfit for fall, at the very least. It and similar alternatives, ahead.
Shop The Look