Ashley Graham Teamed Up With Revlon For An Inspiring New Campaign (& It Involves The Perfect $10 Foundation)
Frazer Harrison/Getty Images Entertainment/Getty Images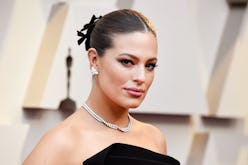 Revlon's latest campaign is proof that you can embrace your natural look and still love makeup, too (who ever said you had to choose?). Revlon's "I Can. So I Did." campaign is encouraging women to be entirely and unapologetically themselves with the help of a new collection of skin-renewing products. Ashley Graham is, of course, one of the fierce females involved.
In Feb., the cult-classic cosmetics brand launched PhotoReady Candid, a series of makeup loaded with antioxidants, anti-blue light, and anti-pollution properties. The collection is designed to inspire women to "own their natural look," a press release said.
The empowering message behind the products led to the launch of an entire campaign featuring Gal Gadot, Adwoa Aboah, and Eniola Abioro, in addition to Graham. The brand called on women to share their personal achievements on Instagram with the tag #ICanSoIDid. In addition to Revlon's ambassadors, everyone from Rachel Zoe to makeup artist Katie Jane Hughes has chimed in.
"I'm so proud to play a role in the progress that has been made in the beauty and fashion industries and be a part of a campaign that champions women's achievements, big and small," Graham told her 8.2 million Instagram followers on Feb. 15, posting a video from the campaign.
"We want to give women the confidence to be themselves and turn their potential into achievement — big or small — and motivate others to live boldly and hold nothing back," Revlon's Global Brand President Silvia Galfo said in the statement.
Aligning with the message, Revlon's PhotoReady Candid products are designed to enhance your natural look, too. The collection contains 31 shades of foundation, 18 shades of concealers, and three setting powders to choose from.
In fact, the foundation (which you can find at the drugstore for only $10) made it into Graham's red-carpet beauty routine ahead of the Oscars. It's designed to feel super lightweight and hydrate skin while you wear it. It offers medium coverage and contains all the right ingredients to protect from pollution, as well as blue light from your phone (yes, that screen time is harmful in more ways than one).
You also have to keep an eye out for certain oils, dyes, and fragrances that can cause damage to your skin. You can rely on Revlon's new collection, though, to keep your complexion as fresh and healthy as it can possibly be. Ashley Graham does, after all.