Restoration Hardware's Growing Sale Is Overflowing With Sleek, Luxurious Pieces
Restoration Hardware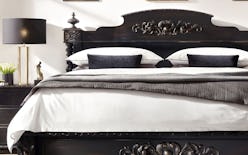 The very concept of getting a crystal chandelier on sale — or a Carrara marble dining table discounted, or a handwoven Moroccan rug for 50 percent off — may seem like an incredibly early April Fool's prank, but the Restoration Hardware furniture sale is no joke. If you're in the market for a luxury statement piece for your home, Restoration Hardware's sale section should be the first place you shop. With prices up to 60 percent off, the sale section just keeps growing as recent releases, like the Holiday 2018 Collection, are added.
Still daydreaming of that sale on chandeliers? Understandable. For anyone with a Pinterest board of luxe lighting saved and a budget that doesn't let you buy each one, meet Restoration Hardware's crystal lantern chandelier. The hand-polished chandelier, created in the style of 19th century Moroccan lanterns, is marked down from its original price of $895 to only $475.
While Restoration Hardware's sale offers more traditional chandeliers (novels could be written about the beauty of the Crystal Halo Chandelier), the lantern's spherical shape may work better in a modern space where its seamless crystal sides won't interrupt a minimalist aesthetic. Hang it in your living room, bedroom, or over a kitchen island — wherever you want to elevate, its shape and size can blend in.
You may get distracted by Restoration Hardware's sofa sales, and rightfully so, but other substantial furniture pieces deserve your attention, too. You can save over $2,000 on this Montpellier Glass Double-Door Sideboard and Hutch, originally $4,895 but marked down to $2,695. Sure, a hutch may not be as much of a living room staple as a comfy sectional, but the unique duo of dark hardware and taupe walnut makes it equally as important.
Restoration Hardware's sale section has other one-of-a-kind finds that break the mold of design trends. Upgrade your dining room with this industrial marble table, marked down from $3,035 to $2,428. Pairing the elegant Carrara marble top with a utilitarian steel frame and caster wheels is a new take on marble that will impress your dinner guests.
Your budget may have kept it so you only browsed Restoration Hardware for interior design inspiration — the original prices can be steep. But with all the additions to the sale section, you can save thousands on the brand's elegant designs. Continue scrolling for eight expensive-looking Restoration Hardware sale pieces no one would think you got for a bargain.