3 New Ways To Incorporate Marble Décor Into Your Space If You Still Love The Trend
Artemest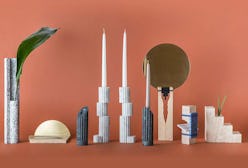 Remember in 2017 when marble décor ideas took over the design world? It was the little luxe trend that could. Overnight, designers were competing to create the most extravagant imported marble backsplashes, and the the Pinterest-savvy were adhering marble contact paper to basically everything. Well over a year later, the trend is still popping up in décor releases, with no lack of fresh ideas that show the trend is evolving with time.
Of course, if you missed out taking advantage of the marble accent wall trend (or your slabs vanished as mysteriously as Kim Kardashian's Calacatta gold marble), then go out and grab some wallpaper. As always, style your home in any way that makes you happy, and a marble wall never fails to look luxurious. But if you lived through putting up and taking down the trendy marble wall, there are still ways to add the stone into your home that won't bring back dark memories of wrangling removable wallpaper.
1. Make Marble Unexpected
Marble elevates everything it touches. While this works wonderfully on large spaces like a wall or backsplash, slip marble's transformative appearance into unexpected places to turn the trend on its head. Often-ignored objects are elevated just by using marble, like this set of marble salt and pepper shakers for $53 — and you get the added perk of making your dining room table that much more beautiful.
If you want to put a twist on marble kitchen countertops, use marble only for objects that live on top of the countertops. Letting marble objects live on of your counters, like West Elm's $29 marble cookbook stand or the marble shaker set, mimics a marble countertop's classic appearance while also giving small objects a surprising upgrade.
2. Go For Abstract
When you think of the marble design trend, the first pattern to come to mind is the typical grayscale swirls on white. Forgo that typical design for the eye-catching, organic décor designers have found through abstracting marble. Prints like this $168 marble flow wallpaper from Anthropologie read like trendy marble thanks to the dark lines on white, but resemble a swirling watercolor more than the standard design blog accent wall. And since it's less obviously a trend, you can leave it up well after marble is over and your space will still look chic.
Like the wallpaper, the Noho Marble Rug by Kate Spade New York lets the texture run free. Retailing at $2,499, it's impossible to tell which color is the marble's veining in this eclectic rug.
3. Meet New Marble
Leave the white and gray marble behind entirely to truly take marble décor in a bold direction. You could spend a lifetime learning about the different types of marbles in the world, and artists like the Italian designer Ilaria Bianchi are crafting the stone into functional pieces of modern art. Bianchi carved this $390 marble flower vase from Travertino marble — a stone that pulls much warmer and pinkier than the design trend's colorway of choice — using the traditional splitting technique.
Marble's established popularity has lead to imitators, too, and that's not a bad thing. Retailing for $565, this blue and white lamp has a marbled glaze that would be rare to find in nature. The marbled glaze gives the lamp the same show-stopping effect as genuine marble, too.