Bike Shorts As Swimwear Might Be The Next Trend To Try, According To RENDL
Courtesy of RENDL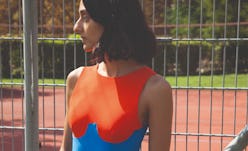 You probably haven't yet heard of the European swimwear brand RENDL — but chances are you soon will see that name everywhere. With less than 8,000 followers on Instagram, designer Rosa Rendl's eponymous brand is quietly, slowly churning out some of the most sleekly intricate swimwear of the season. Look no further than RENDL's Summer 2019 collection: A pared-down core collection of sporty swimwear that could effortlessly pass as high-end athleisure.
"In general I don't work with themes for the seasonal collections, as I see all the RENDL pieces eventually formatting together to a permanent, timeless collection. Rather than thinking seasonal and trends related I think nowadays it's important to develop slow fashion design concepts," Rosa Rendl tells The Zoe Report over email. "Nevertheless inspiration for my designs, color concepts, and shapes often comes from 20th century (often female) European artists and designers," she adds — naming Eileen Gray, Jean Arp, Katarzyna Kobro, and many more.
It's actually hard to tell where the swimwear ends and the cover-up styles begin; and if there really is a difference between the two. Bikini tops like RENDL's Top No.1 or the Top No.13 wouldn't look out of place at barre or yoga class — and then styled with an unbuttoned, oversized shirt and high-waisted jeans for a night out. The stunning (and, more importantly, matte) Swimsuit No.18 is another piece that blurs the line, riffing on the bustier fashion trend in a way that feels exhilaratingly fresh.
"The signature piece for the Summer 2019 collection is the Swimsuit No.18, a two colored one-piece with a curved seam underneath the bustline emphasizing the female bust," Rendl notes. "When I made that design I had the 'Spatial Composition No.4', 1928 by Polish artist Katarzyna Kobro in mind. The color-blocking as well as the linear and curved shapes of her work inspired me for the colors, lines, and shapes of the swimsuit."
Another one of the collection's designs may catch your eye, though: Pants No.5, a matte bike short designed to be worn with a swimsuit or bikini top. "Last season I already added a long flared-legged pant (No.4) to the collection. The Pants No.5 (biker shorts) simply is a short version of it," Rendl notes. "The idea behind is that I envision my swimsuits and bikinis as versatile pieces, that don't only function for swimming, but can be worn and combined as full outfits for the day and the night or even as activewear.
"To express that ambition I create more and more combination pieces like skirts, pants, tops, and dresses that function as simple combination pieces for the bikini tops and swimsuits to create full outfits," Rendl continues. "That way the customer can play around with the pieces and come up with their own vision of adaption, may that be before or after swimming to easily put on a skirt over the swimsuit or may that be using the biker shorts in combination with a bikini top for yoga or even to wear a swimsuit as a top in combination with a skirt to go out for a drink in the evening."
The only person who can decide how you wear your RENDL clothing is you. Ahead, a few trend-setting pieces from RENDL's latest collection.