Why Reformation's More Inclusive Jean Sizing Isn't The Only Great News For Ref Fans
Reformation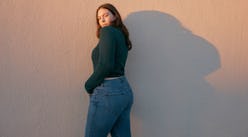 Denim is the Wild West of shopping. Each store has its own definition of what your jeans size is, and often you'll find you're different sizes in the same store depending on fit, material, or sometimes, it seems, just because. But there's a new sheriff in town: The Reformation jeans extended sizing collection is here, and it wants to end the perfect jeans search for sizes 14 to 24.
Following the success of Reformation's first extended sizing collection, the Ref Jeans denim collection will offer Reformation's trademark sustainable jeans in sizes 14 to 24 starting Nov. 12. And Ref Babes, this is only the beginning: Reformation wrote on its site that it will offer an evergreen extended sizes collection in early 2019. You can trust that whatever it includes in the evergreen collection will glow with the brand's flowing, feminine aesthetic, but fingers crossed for a return of the knockout Reformation Sally dress.
The new denim collection is form-fitting and vintage-inspired, with just enough distressing to make it look like you've owned these jeans for years. Reformation worked with experts to craft the collection's sizes to ensure that they would fit individual body types perfectly. The standards were high, after all — Reformation's denim is an Emily Ratajkowski closet staple, and has previously racked up a 3,000-person waitlist.
Didn't know this magical day was coming, and debating restructuring your monthly budget to squeeze in a pair? The Ref Jeans collection rivals lots of denim pricing, with many of the jeans retailing at just $98.
Reformation also made sure that this collection was as eco-friendly as it was adorable. The Ref Jeans collection is crafted in Los Angeles from TENCEL Lyocell, a soft, sustainable cotton alternative derived from Eucalyptus trees that uses 1/10th of the water to produce. These aren't paper-thin jeggings, either. Each pair of jeans is made with at least 12 ounces of the TENCEL Lyocell, making them thick enough for winter wear.
The jeans fit true to cotton denim's sizing, are designed to hold shape like high-quality cotton jeans, and should be washed in cold water then hung to dry — which Reformation recommends for all machine washable clothes, citing that hanging clothes to dry for only half of the year can eliminate up to 700 pounds of greenhouse gasses annually.
Though Ref Babes above a size XL will have to wait just a little bit longer to pair their Reformation jeans with the evergreen collection, the versatile denim will go with anything already in your wardrobe. Pair the distressed Julia jeans with a comfy, faded tee for grocery runs and weekend drinks, or pair the $98 Extended Sizes High & Skinny style with a cashmere sweater and blazer at the office. And of course, a great pair of Reformation heels goes with any outfit.
This collection is already selling out on Reformation's website, so make sure you grab the denim you need before you have to wait for a restock. Below, all the new extended sizing jeans available from Reformation.