Reese Witherspoon Swears By This $9 Face Wash
Christopher Polk/Getty Images Entertainment/Getty Images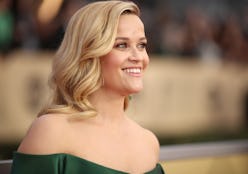 With teen cult-classic Cruel Intentions having just turned 20, Reese Witherspoon is far from new to the game. From Legally Blonde to Big Little Lies, the 43-year-old actor has been around the block and is rightly cemented as a beloved staple in Hollywood, with an expansive archive of winning fashion and beauty looks spanning her decades-long career. Despite her accolades, the Academy Award-winning actor keeps it real and stays humble, and Reese Witherspoon's skincare routine proves she's not above a good drugstore beauty steal.
While sitting down for a chat with Refinery29 surrounding all things beauty, the mother of three dished on her skincare must-haves, explaining she's open to splurging on fancy facials but sticks to the basics when it comes to cleanser. When asked about her drugstore holy grail products, Witherspoon vouched for an affordable, cult-favorite face wash by Cetaphil.
"I use the face wash, and I travel with it," she revealed, admitting she's not above a makeup steal from the CVS beauty aisle, either. "I love drugstore makeup, too. I remember going as a little girl to the drugstore down the street from my grandmother's house, and I'd spend hours looking at nail polish and lipstick and blush."
By the looks of Witherspoon's crystal clear and radiant glow, it's definitely worth adopting pointers from the actor's skincare regimen. She also raved about her newfound love for retinol capsules, which fight the appearance of fine lines and work to even your skin tone. But every skincare enthusiast knows that a stellar complexion starts with a solid cleanser, which doesn't have to mean breaking the bank.
It seems like a new, innovative skincare line emerges daily, but there are certain favorites that will always hold their spot on the vanities of dedicated skincare lovers. In the spirit of keeping it classic in the name of great skin, The Zoe Report rounded up a handful of simple, gentle cleansers that are unfussy and effective. Ranging from Witherspoon's longtime budget-friendly fave which rings in at under $10, to newer formulas that are equally praised and uncomplicated, the selection below is yours for the taking.
Shop The Products