You Have To See This Video Of Hair Extensions Being Applied In Seconds
Getty Images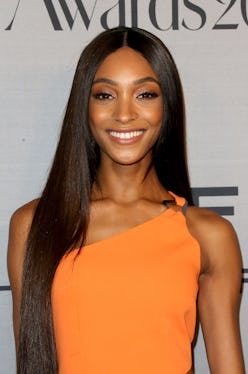 If we told you longer hair is possible in under a minute, you probably wouldn't believe us. But thanks to a viral video of a hair-extension application, we can show you it's the truth.
If you've ever tried it, you know applying extensions is no easy task. Dividing strands into sections and then painstakingly adding adhesive, or braiding pieces into the hair, is insanely time-consuming. Even after hours in the chair, the tracks from strips can be easy to spot, which is less than chic. That's where Balmain Hair Couture comes into the picture. The Parisian powerhouse debuted a new applicator for hairstylists, and the instructional video is truly mind-blowing. Beauty guru Huda Kattan shared on Instagram the Balmain Système Volume demo, in which extensions are applied to the head of a mannequin.
A rectangular plastic case holding the extensions is placed onto the root of one's natural hair. Then, a gun-like tool is pressed onto the head, melts the wax adhesive and voilà! The extensions are in place. Unfortunately, the system is currently only available to Balmain partner salons, but we're hoping that due to the power of social media, more salons will adopt it, so we can all get the luscious locks of our dreams easily. Watch the mesmerizing video clips below.