Réalisation Par's Insta-Favorite Midi Skirt Now Has A Fall Version
Réalisation Par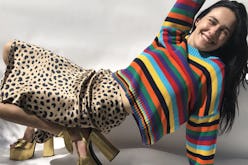 Confession time: I would live in my Naomi skirt from Réalisation Par if I could get away with it. It's comfortable. It makes you look like you put in effort (even if you rolled out of bed 5 minutes prior). It goes with everything — not exaggerating. And judging by the limitless adoration the fashion community has for the style, I'm not the only one. But, as fall 2019 approaches, shoppers may be looking towards the Australian clothing label for something new and not yet splashed across Instagram's digital pages. The answer? Réalisation Par's new Joni skirt.
Even though it was only unveiled on Réalisation Par's Instagram account Aug. 20, the new design's sparkling star power is obvious already. At the moment, the $195 skirt only is available in one soon-to-be-everywhere print: a nostalgic, western-inspired paisley. "Whether you're the one who's on stage shaking your tambourine or you're kicking up the dust watching the sun set, waiting for that next adventure to come your way — you'll be wearing the Joni skirt," wrote Réalisation Par on Instagram.
As fans of the brand will realize, this makes the new style different than the Insta-famous Naomi skirt, which is available in everything from a now-iconic minimalist leopard print to a '90s-era tie-dye. That's not the only difference between the two skirts, as well; while the Naomi is a fluttery, midi-length skirt, the new Joni skirt is a full-length maxi, perfect for styling with your favorite tall autumn boots when the weather turns a bit chillier.
Moreover, the Naomi featured a hidden elastic waist, which lets you wear it on your waist or hips; the Joni has an invisible side zipper and exclusively sits high on your figure. While these details may sound small, they'll make big differences for Réalisation Par fans — a group that seems to make up a vast majority of Instagram's fashion community.
And frankly, it's a group worth joining. Whether this is your first Réalisation Par purchase or your twentieth, shop the new Joni skirt below.