Everyone's Favorite Leopard Skirt Now Comes In A Trendy New Print
Courtesy of Réalisation Par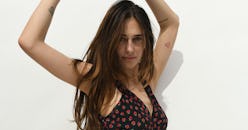 You would have had to take an extended fashion hiatus to miss the waves Réalisation Par's Naomi skirt made on social media starting last summer. Not only was the slip midi silhouette spotted on countless style influencers, but it sparked the match that started the leopard-print skirt trend that's still burning bright a year later. There are few brands that created as big of a buzz among the fashion set, which makes it all the more exciting to see which piece (or pieces) from Réalisation Par's summer 2019 arrivals will be the next big hit.
Just in time for the first official day of summer, the brand has unveiled 12 new styles that you can shop online now (along with six more that *officially* launch on June 23, though you can view them on the site now). But while you certainly should mark your calendar for what's to come, there are still plenty of pieces you can shop right now — one of which may in fact be the new skirt of the summer.
Yes, the Naomi skirt has been refreshed again, and this time it brings an on-trend tie-dye twist. Ringing in for $180, the effortless silhouette features an original "Karma" purple and white tie-dye print that was designed by Réalisation. Like its predecessors, this version of the popular skirt style is versatile and no-fuss. Slip the skirt on for brunch with a white ribbed tank and a pair of sporty sandals. As for the evening? Dress it up with a pair of barely-there sandals and a silky black camisole for dinner out with friends.
Another new addition you should make note of is The Allegra dress, which is available in three different iterations. For $240, you can snag the ankle-grazing style in either a happy yellow and pink flowery print called "Verona" or a moody black multi-colored floral print dubbed "Milky Way." As for the third option? Named "Yellow Dragon," the $250 marigold dress is all elegance and features 100 percent silk jacquard with a dragon print.
If you're after a shorter hemline, set your sights on the thin-strapped Amelia midi dress in its new "Midnight" navy floral print for $210. Or, you can bare even more leg in the flouncy, A-line shape of The Isabelli mini dress for $180.
Continue on to shop a selection of the latest pieces to land on Réalisation Par, and head over to the site to few the rest.