Rachel Zoe's Latest Collaboration Benefits A Cause Near & Dear To Her Heart
Courtesy of Janie + Jack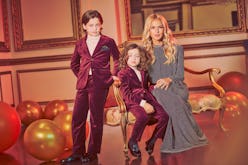 Rachel Zoe wears head-to-toe sequins on an average Tuesday, so there's no season that resonates with her aesthetic quite like the holidays. It then comes as no surprise that, for her collaboration with brand Janie and Jack, she translated her trademark glamour into a children's holiday collection, with 100 percent of proceeds benefitting the charity Baby2Baby, where Zoe serves as a board member.
"I've been involved with Baby2Baby since the beginning and have seen how many lives are forever changed by the organization's work," explains Zoe. "So being able to give back, especially at this time of year, is endlessly rewarding." In addition, Janie and Jack will facilitate customers making donations to the charity at both online and in-store checkouts through the end of the year.
The 38-piece line riffs on best-selling styles from her women's ready-to-wear collection, like tailored tuxedos, metallic dresses, and glittering shoes, all shrunken to sizes appropriate for little ones ranging from 12 months to 12 years old. As a mother of two boys herself, she also kept comfort and convenience at the forefront of her design process, selecting fabrics and silhouettes that would be versatile enough to withstand even the most mischievous shenanigans. "My boys are constantly tumbling around and need pieces that feel unrestrictive but still look great, which is what I've aimed to do with this collection," says Zoe.
Given the speed with which children grow out of outfits, she's also strived for versatility so they can be worn again and again. To whit, one of her favorite girls' pieces is the faux-fur cropped jacket which can be styled in a multitude of ways "I love it over holiday dresses, but it's also perfect over a sweater and jeans or leggings." But it's the tuxedos and suiting, for both girls and boys, that really stands out. Statement suiting is a mainstay of Zoe's ready-to-wear brand, and a current trend with staying power, so it makes sense she incorporated it into the line. As Zoe put it, "What could be more chic than showing up to a holiday party with your daughter in coordinated suits?" Here, a few of the other standout pieces, whether you're buying for your kids or need some gift ideas.
This mini tuxedo features a peplum jacket with satin lapels and trousers with contrasting tuxedo stripe.
A sweet, long-sleeved leopard print dress with black sash in a lightweight fabric that'll be wearable long after the holidays.
A gold jacquard suit, complete with contrast piping, is both comfortable and versatile. Pair it with glitter flats and a faux-fur vest for holiday parties or wear the pieces separately with casual staples like denim or knits.
This adorable gunmetal mini dress is perfect on its own or layered over a turtleneck and tights for added warmth.
No Rachel Zoe collection would be complete without a metallic jumpsuit, and this stretchy style features faux off-the-shoulder sleeves. Extra points for pairing it with the coordinated turban for a Studio 54 vibe.
Rachel sons, Skyler and Kaius, wearing velvet suits from the boys collection. Shop the entire collaboration, and donate to Baby2Baby, here.
Baby2Baby will receive (I) 100% of the net proceeds from the sale of the Rachel Zoe X Janie and Jack Party Collection and (II) 100% of donations collected at checkout at janieandjack.com and at Janie and Jack stores in the U.S. from Nov. 18, 2019 through Dec. 31, 2019. In the event that the combination of (I) and (II) is less than US$250,000, Janie and Jack will donate the difference. Baby2Baby: 55830 W. Jefferson Blvd., LA, CA 90016 (323) 933-2229