If You Love Brock Collection You'll Want To Check Out New Line, Black Iris
Courtesy of Black Iris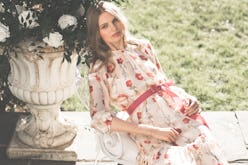 Valentine's Day provides a great excuse to practice a little self-love in the form of treating yourself to a coveted dress, a cult beauty product, or a delicate piece of jewelry. To offer inspiration, Rachel Zoe has curated her favorite romantic gifts with which to treat yourself, based solely on the pieces with which she plans to treat herself.
"February is the time I stock up on beautiful dresses ahead of the spring rush," says Zoe, who has new brand, Black Iris at the top of her wishlist. If you're easily seduced by romantic prints and ladylike silhouettes, you'll want to familiarize yourself with the line, stat. It was launched by four friends with impressive resumes spanning design, marketing, merchandising, and finance. Aly Gradone, Candice Miller, Chloe Rosenberg, and Rachel Wexler banded together to design pieces that satisfy their need for polished, versatile staples imbued with an antique sensibility. "We really wanted the Grace dress to have an old world feel," say the quartet over email. "It has beautiful antique details like it's full organza skirt, open collar and crystal buttons balanced by its sheer bodice updates it for a more modern and sexy look." The first collection is pretty without being saccharine, and can be easily styled for a multitude of occasions. Think diaphanous long-sleeved midi dresses nipped at the waist with velvet belts, and rich vintage-inspired satin slips, all of which would look right at home in Downton Abbey.
Wear the Iris dress with flat boots and a duster coat for the remainder of winter, then play up the effortlessness with a barely-there sandal come spring:
Or belt a blazer over the brand's Grace dress to make it work-appropriate. Pair it with stacked heels for a night out:
Next on Zoe's Valentine's wish list: luxe knits. "The only thing more decadent than staying in, is doing so swathed in layers of cashmere," says Zoe, who cherishes nights at home with her family. Though her obsession with the ultra-soft, featherweight fabric has recently been replaced with the eco-friendly cashmere alternative created by Malibu-based brand, Bleusalt. The line, which also counts Cindy Crawford as a fan, consists of timeless, season-less pieces constructed from birch tree fibers. Founder Lyndie Benson is also striving to make the sustainable line zero-waste by removing plastic, one of the most damaging pollutants released into the ocean each year. The takeaway? You'll be showing the environment some love in addition to yourself. Win win.
Wear this knit dress layered over a thin, long-sleeved sweater with sneakers and an oversized blazer for a relaxed, off-duty look:
Trade in your leggings for these cozy joggers which pair brilliantly with, among other things, Netflix:
If pampering yourself is on your list, Zoe suggests signing up for her quarterly subscription service, Box of Style, which delivers her edit of the best fashion and beauty finds for the upcoming season for $99.99. "The goal is to provide our members with the styling extras they need to feel like their most glamorous selves, every day," says Zoe, who has just launched her latest edition for spring. The selection includes a set of simple gold bangles, a gold-leaf eye cream, a sleek leather pouch, a printed silk scarf, and a gua sha facial massager. "It's also the perfect gift for a friend or family member you can't be with on Valentine's Day," she says. Why not spread the love?
The leopard-print scarf, stacked gold bracelets and black leather clutch are all versatile enough to be styled into a range of different looks.
Touted as the more effective alternative to the ubiquitous jade roller, the gua sha provides a deeper facial massage to promote drainage of toxins and increase the flow of oxygen and nutrients to the skin. The Skin Gym version in the Box of Style is also easy on the eyes.
Also included in the Box of Style is Edible Beauty's Gold Rush Eye Balm, made from all natural ingredients, including coffee and cucumber extracts to reduce puffiness and dark circles, and gold leaf to promote cellular turnover and luminescence.
All in all Zoe's recommendation boils down to this; Whether you're gifting yourself or a loved one, opt for something that will add a little luxury to every day.