Queen Letizia Just Put A Springy Spin On Tweed (& Her Vest Is Still In Stock At Zara)
Carlos Alvarez/Getty Images Entertainment/Getty Images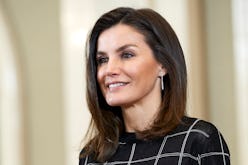 If you think this weather is too hot for tweed, then think again. While thick, woven fabrics probably aren't the first thing you're eager to add to your warm-weather wardrobe, spring and tweed aren't always oxymorons. Queen Letizia's Zara vest is proof.
The Spanish royal spent her Tues. handing out scholarship awards to students in Madrid wearing the chicest spring outfit. Queen Letizia opted for a monochromatic pink look with aquamarine-colored drop earrings. Her loose and flowy culottes were a prime example of the warm-weather pants every girl should have hanging in her closet and paired with that longline woven waistcoat made for an all-around statement outfit.
She even went extra trendy with a pair of perspex pumps. The heels — pale-pink slingbacks by Steve Madden — channeled the "naked" shoe trend with a see-through strap. She owns another pair of the under-$100 shoes in black, which she wore to with a Hugo Boss suit (also tweed) back in Sept.
So, it turns out that PVC and tweed are a match made in fashion heaven. Queen Letizia's chic waistcoat complemented her trend-forward heels perfectly, giving the royal that signature sophisticated look. The Zara number is sleeveless and features inverted lapels, flap pockets, and a metal hook fastening in the front. The best part about it, though? It's only $90.
If there's one thing the ever-stylish Queen Letizia loves the most, it's tweed. She has countless statement piece made of the classic fabric by Pedro del Hierro, Uterque, Adolfo Dominguez, and more. It must be a royal thing, because Kate Middleton loves a good tweed dress, too.
And just because it's getting warmer doesn't mean Her Royal Highness has to abandon her favorite look. While tweed is often synonymous with cold weather, there are plenty of airy pieces like Queen Letizia's waistcoat to fit into your warm-weather wardrobe.
Some of The Zoe Report's favorites, ahead.
Shop The Look