Quay Teamed Up With Chrissy Teigen For A New Eyewear Collab & It's As Affordable As It Is Chic
Exclusive Photo Courtesy of QUAY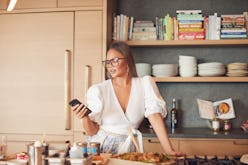 Everyone is unique, but there are a few that are completely inimitable. One such individual with an incomparable sense of style, humor, and design (plus out-of-this-world cooking skills, to boot)? The one and only Chrissy Teigen. The model turned multi-hyphenate mogul manages to pull off being effortlessly glamorous and refreshingly authentic (and often hilarious) all at once — and now, you can emulate just a touch of her aesthetic thanks to the Quay x Chrissy collab. Stunning shades and blue-light blocking glasses that are Chrissy-approved, right this way.
On Aug. 15, Australian eyewear brand Quay announced its newest collection, a collaboration with multi-faceted businesswoman and model, Chrissy Teigen. As the face of the campaign, Teigen worked with the brand to put to rest the debate on how to pronounce Quay (it's "key" by the way) and to assemble a full line of some of the bestselling frames in new color ways, from chic fall-ready shades to must-have blue light-blocking eyeglasses. Basically, the drop's got everything you need to look as cool as Chrissy this season (and keep digital eye strain at bay while you're at it). And a major bonus? Each style will cost you no more than $60, so your fall fashion budget can breathe easy.
"I've come across Quay a number of times over the years through friends, so when the opportunity to partner came up, it felt right. I love that they offer something so special that's accessible to everyone—the product is beautiful, and the price point is inclusive," Teigen said in an official press release. "The blue light collection was such a natural alignment since I'm clearly spending a lot of time looking at screens."
Chances are you spend ample hours staring at a screen, too, so make like Teigen and scoop up a pair or two of Quay's eye-defending glasses ASAP. The Blue Light Technology helps block harmful light emitted by digital screens, that can cause symptoms like headaches, blurred vision, and sleeplessness — so if any of that sounds familiar, these frames are sure to help. Snag the All Nighter, a modern cat-eye style, in retro-inspired colors like tortoise shell or pink and clear for $55, or go for something more geometric like the square-shaped Hardwire, $50, available in smokey gray, champagne, and clear. Love oversized styles? The $55 Stranger, a big beveled square frame, is rendered in bold black for Chrissy's collab.
For autumn days spent outside, you'll want a chic pair of sunnies to shade your eyes from the sun — and luckily the Quay x Chrissy collection serves up several. Fans of round, oversized silhouettes will fawn over vintage-inspired Gold Dust, a $60 gold hardware-accented style available in black or toffee and pink fade, or Jezabell, $60, a wire-framed shade up for grabs in gunmetal gray with navy fade lenses, or an edgy black on black iteration. Prefer a classic aviator? The Vivienne, $60, doesn't get more timeless than in gold with brown gradient lenses. For the best of all worlds, the Sweet Dreams in black, $55, combines the glam golden hardware of an aviator style with a cool, mod plastic silhouette that brings a touch of modern edge.
Part of Quay's fall campaign is its Education is Quay movement, whereby the brand will be donating $100,000 by way of ten $10,000 scholarships to deserving students. To be in the running, students will share with Quay what self-expression means to them, and Teigen will help select the winners. "The scholarship component of the campaign is what brought it all together for me. The opportunity to give back and fund someone's dream is such a special privilege, and I'm thrilled to be a part of that," Teigen said.
Keep scrolling to shop all of the stylish frames from the Quay x Chrissy collab. They may not give you her ability to come up with witty responses to Twitter trolls, but they will have you looking chic in a snap.