PYT Beauty's Shimmery New Eyeshadows Are The Ethical, Microplastic-Free Glitter You've Been Looking For
Courtesy of PYT Beauty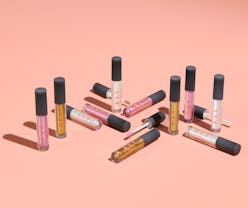 As you remember, glitter eyeshadow dominated New York Fashion Week this year. It sparkled at Pyer Moss, dazzled at Brandon Maxwell, and smoldered at LaQuan Smith. Then came Paris — where it evolved into the grandiose, golden looks of Valentino and danced across the bridges of models' noses at Off-White. And while all looks were equally showstopping, not all glitters are created equal. Enter: PYT Beauty's new Glam Glitter Gels.
But first, back to glitter itself — aka the pretty sparkle often created from ecologically harmful microplastics. Or, shimmery mica with very questionable ethics. "We saw a major gap in the clean beauty market for an everyday wearable glitter," reads a quote from PYT Beauty in a press email. "So we were determined to create a kick-*ss one!"
And so, it did. The $18 Glam Glitter Gels dropped Nov. 1, offering shoppers a responsibly sourced, microplastic-free alternative before holiday party season — otherwise known as glitter eyeshadow season — fully arrives. "We take great pride in making sure all our manufactures provide documentation to confirm that they abide by ethical practices and child free labor, in order to mine our mica ingredient," PYT Beauty tells The Zoe Report in an email.
PYT Beauty launched three shades with its inaugural drop: the sparkly and feminine "Pink", richly yellow-based "Gold", and "Iridescent", a clear gel with rainbow shimmer. Moreover, each Glam Glitter Gel — no matter the shade you pick — is cruelty free, hypoallergenic, vegan, and completely safe to wear around your eyes (because yes, you should always double check any glitter).
Another plus? You can use the new glitzy shadow as a highlighter or eyeliner, too. The gel-based formula is buildable — wear a light layer alone on your lids, or on top of eyeshadow for a more blinding shine. And thanks to the Glam Glitter Gel's applicator, no makeup brushes are necessary.
You can find the new glitters on the brand's website. Or, pick up a tube at Ulta, Credo, Macy's, and Anthropologie — you have options. (Although PYT Beauty's own website does offer a Glam Glitter Gel bundle of two for just $25, which is worth taking note of.)
Ahead, PYT Beauty's new Glam Glitter Gels, now available on PYTBeauty.com.