I'm Here To Inform You That Going Out Tops Are Back In A Big Way
@ceciliebahnsen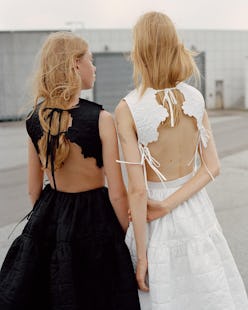 To qualify as a "going out top" it's not enough to simply have a top... that you wear... going out. There are certain (extremely scientific) qualifications that must be met. It must have have that alluring twist: a puffy sleeve, a hint of sparkle, or maybe even a feather or two. It must be able to survive the risk of a rogue slosh of a margarita, and it has to be able to hold its own on the dance floor. I know all of this because I spent much of my early twenties curating a collection of cute going out tops that fit said description.
For far too long these confectionary purchases mostly sat in my closet, serving their purpose on Friday and Saturday night, only to be tucked away right before I tucked into bed. But no longer! Lately, I've been inspired by the myriad of cool brands that are reimagining these after-hour styles for the daytime too. Up-and-coming brands like Cecilie Bahnsen and Staud have made successful business of creating fancy pieces that somehow work just as well with jeans and sneakers as they do for a black tie event. If you need any further proof that yes, in fact you can break out that going out top tonight, tomorrow morning, and next Monday too, you'll find the five key top styles to break out twenty-four seven.
The Statement Sleeve
Romantic details are a major trend for the summer, and there's nothing quite so dreamy as an oversized puff sleeve. To help balance the ultra-saccharine feel of a high-volume blouse, pair with a leather skirt and edgy accessories like a biker boot. Hitting that balance is the best way to take this evening-appropriate style into the daytime.
The Colorful Crop
As the weather heats up, a simple black top just doesn't quite pack the same punch. Bold colors and a cropped cut make for the ideal combination. For an extra-eye-catching look, consider coordinating your top with bottoms in a similar or contrasting hue.
The Open Back
An open-back top is the ideal day-to-night style. Wear to the office with a blazer or cropped leather jacket on top. Then, once you make your way to sunset drinks, you can ditch the outer layer for a full reveal. For those that can't forgo a bra, opt for something underneath that's black and lacy that you wouldn't mind showing off.
The Babydoll
Don't mistake this style for a swim top. In fact, a super-cropped babydoll top is the perfect piece to pair with a high-waisted skirt or dressed down with your favorite mom jeans. Look for fun details like tie-straps or a dainty ruffle to lean fully into the romantic feel.
The Sheer Topper
While there was a time when totally sheer shirting seemed best reserved for after hours, it's no longer the case. While what you wear underneath is all about your own level of comfort — tank, bra, or nothing at all — a sheer layer on top is cool and refreshingly breezy for summer.