Meet Rotate, The Scandinavian Brand That Just Created The Ideal Holiday Party Dress
Courtesy Net-a-Porter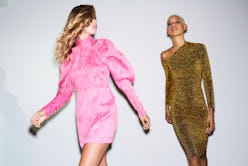 You already know Acne Studios and Ganni; they're the major players that helped to put Scandanavia on the fashion map. But now there's a new Scandi brand to put on your radar: Rotate Birger Christensen is an emerging Copenhagen-based brand that is already gaining buzz for it's fresh approach to eveningwear. "We were always looking for that perfect party dress but we kept going back to the same brands as everyone else," explains stylist and creative consultant Jeanette Madsen, who co-founded the line with her friend and peer Thora Valdimars. "We wanted to make a line that was more extravagant and we wanted to embrace a woman's femininity with our dresses. However, one of the most important factors was that the line was affordable."
With that simple premise, Rotate was born. For the first collection (which launches today exclusively on Net-a-Porter), the duo took cues from the past, "we have gone through archives of the '70s disco glam for inspiration," explains Valdimars. "When looking at the complete collection you get the feeling of something unique — a palette of perfectly fitted vintage pieces." In this season's debut, details like oversized sleeves, glossy fabrics, and high-saturation hues are as appealing for impressing acquaintances in real life as they are for standing out on Instagram (more-or-less a requirement these days).
According to Net-a-Porter's global buying director Elizabeth von der Goltz, the mix of timeless glamour and sartorial precision is part of what caught the retailer's attention. "The designers, Jeannette and Thora, have such incredible personal style," von der Goltz explains. "Rotate was a result of them finding a gap the market and filling it with a collection that suits their personal needs. The Net-a-Porter woman tends to be quite fashion-forward, so we were very confident it would fill a void in her wardrobe as well."
Rotate's launch comes at a time when Scandanavia's place in the fashion space has slowly been carved out. In the last few years, Copenhagen has become a city brimming with fresh sartorial inspiration, with editors, influencers, and buyers all adding the city to their list of must-attend fashion weeks. "We can't get enough of Scandi style, they have an incredible aesthetic which mixes luxury fashion with everyday streetwear," explains von der Goltz. "There is also an expectation of quality and design ingrained in their culture: they have been famous for their furniture and interior design. It's no surprise that fashion has followed suit."
Though von der Goltz notes that Net-a-Porter has long attended Copenhagen fashion week, she attributes the recent in buzz at least in part to contemporary powerhouse Ganni. "It's important to acknowledge that Ganni's incredible success and growth has encouraged and shed light on the immense design talent from that part of the world," she notes. "It's likely that they've unassumingly served as inspiration for their contemporaries in the market."
Madsen and Valdimars have both contributed to the online obsession with Scandi style as well, amassing their own personal followings before coming together to launch the brand. When asked to help define why it's such an exciting time for up-and-coming brands in their home country, the duo have a straightforward explanation. "We think it's because the clothes are wearable and more often than not you can dress it up or down depending on what you need them for," says Madsen. "Most women have careers and family which means we need things to be suitable for an everyday lifestyle."
Now that the brand has officially launched, shop the collection below.