Proenza Schouler Just Re-released These Iconic Pieces & It's Everything You Need For The Holidays
Courtesy of Proenza Schouler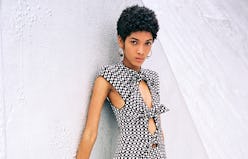 It may not be time to swap your T-shirts for sweaters or bust out your favorite snow boots from the closet — yet — but Proenza Schouler's Re Edition capsule is here to get you in the holiday spirit. And really, the timing is rather perfect. Although the limited-edition, 10-look collection has a decidedly festive slant (think sequins, a grayscale color palette, and glistening metallics) those same joyous details work in tandem to create a glamorous capsule you'll want to re-visit from autumn until spring.
As you may already know, going back to old favorites is a core theme of the collection. The Proenza Schouler Re Edition capsule is made of iconic pieces from the brand's illustrious archive. Unsurprisingly, it works: Proenza Schouler's rigorously chic aesthetic remains unwavering throughout the capsule, whether it's captured in a breezy, short-sleeved floral lace top plucked from the 2011 runway or the dramatic $1,990 Checkered Tie Dress, a Spring 2017 piece that still feels just as modern years after its original debut.
That said, there are a few picks that the holiday party-goer will want to add to their shopping list. The $2,990 Animal Jacquard Feathered Dress — a V-neck, animal-print dress finished with contrasting rows of flouncy ostrich feathers — is one of those pieces. It has all the makings of a quintessential going-out frock; just take a look at the psychedelic, just-loud-enough print's satiny shine.
For something more subdued, add the $2,190 Metallic Rib Halter Long Sleeve Dress to your cart. The dress nails Proenza Schouler's inimitable style — somehow elevating a standard sweater dress into something sleek, structured, and seriously cool — and comes in a subtle metallic that will shine at any party. It's also a dress you'll be able to wear with comfortable boots, your hair thrown into a bun (or whatever style is easiest for you), and layered under a cozy sweater. It's versatile enough for any occasion.
Courtesy of Proenza Schouler
Courtesy of Proenza Schouler
You can shop the Re Edition capsule right from the brand's website, or see more in person by visiting Proenza Schouler's New York City location. Feeling like it may be time to start concocting your very own party look book? Keep on scrolling. Ahead are five dresses from the Re Edition capsule collection to consider this holiday season.