Here's How Proenza Schouler Is Celebrating The Anniversary Of Its Cult Bag
COURTESY OF PROENZA SCHOULER / JEFF HENRIKSON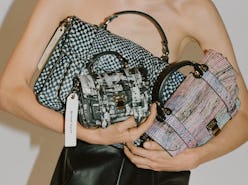 Every so often, a newly released handbag gains a cult-like following to make it reach official It-bag status. The PS1 is one of those highly-coveted styles. Fashion girls and celebrities, alike, have been toting around the iconic bag for years (ten years to be exact). Yes, that's right, it may be hard to believe, but Proenza Schouler's PS1 collection has in fact been around for a decade. And, to celebrate the milestone, the brand has released three limited edition PS1 styles that bag-lovers will be eager to get their hands on.
Available now, the three new exclusive PS1 styles feature archival paintings by the American artist and filmmaker Harmony Korine. The brand, however, will only be releasing a limited run of 400 bags, each embossed with its number. So, you'll want to get yours sooner rather than later in order to not miss out on bringing one of these eye-catching versions of the beloved style into your lineup.
Korine, whose work includes the films Spring Breakers and Beach Bums, has worked with the brand twice before on collections. And while he's more widely known for his film projects, it's his painting that the brand tapped into for their third collaboration together. For the anniversary collection, the PS1 bags have been given a fresh, artful spin, thanks to the incorporation of three of Korine's archival paintings: "Blue Check Success," "Nudity Clause Line," and "Photo Spirit Looper."
Offered in three sizes (Tiny, Micro, and Medium) the limited edition bags have the same classic satchel shape that made the PS1 a must-have style when it was initially introduced as part of Proenza Schouler's first handbag collection. A bag that won over the fashion community from the start, as the brand received the Accessory Designer of the Year Award from the CFDA following its release. This led to the bag becoming an A-lister favorite seen on everyone from Dakota Johnson and Liv Tyler to Kirsten Dunst and Reese Witherspoon, to name a few.
Taking all this into account, there's no doubt that these new styles are going to fly off the shelves in record time. The question is: Will you be able to snag one before they're gone? Continue on to see and shop the latest PS1 styles ahead of everyone else.