Here's Everything You Need To Recreate Priyanka Chopra's Neon-Pink Eyes
Sean Zanni/Getty Images Entertainment/Getty Images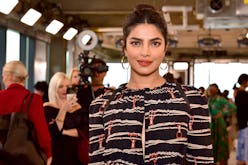 It was one jam-packed weekend of events over on the West Coast. On Sun., the Teen Choice Awards took over California's Hermosa Beach, offering up plenty of standout fashion and beauty moments for you to revel in as summer winds down. Happening concurrently was Beautycon Los Angeles — a two-day convention filled with engaging panels, top-notch makeup, and sneak peeks at upcoming product launches — where Priyanka Chopra's neon-pink eyes stole the show. Not only did they make for one of the boldest (and best) beauty looks of summer 2019, but achieving her high-octane lids isn't all too difficult, either.
Chopra is no stranger to a bold makeup moment, though it's been a while since she's served up such a conversation-starting one. Sat., however, proved to be the perfect time to pull out a striking beauty look that's so good, you can expect to see it all over your Instagram feed in the coming weeks.
Sure, you've seen the neon trend infiltrate just about every celeb's wardrobe this season, but it seems it's now officially taking over their cosmetics bags, too. Chopra, who took the stage at Beautycon on Aug. 10 for an inspiring fire-side chat, rocked a bright-pink lid, courtesy of makeup pro Pati Dubroff.
Dubroff, who was also the mastermind behind Margot Robbie's sunset-inspired eyes for her Once Upon A Time In Hollywood press tour, took to her Instagram to highlight the exact products she used and the steps she took to create Chopra's "Think Pink" makeup look — a neon-pink lid with a black, brushed-out cat-eye and a soft, subtle lip.
Dubroff started by drawing in the black corners using Chanel's Stylo Ombré et Contour liner in "Contour Sombre," which she then blended out for that smudged effect and set with a sheer black shadow.
Next, she layered on a neon-pink creme, reaching specifically for the Danessa Myricks Waterproof Cushion Liner in "Cotton Candy," dusted a bit of pink shadow on top from the Viseart palette, and finished it all off with a dash of Lemonhead's Glowjam glitter in "Hollyweird" for that pop.
The final touches included lots of mascara, likely three or more coats, and a super-simple pink lip, so as not to take away from the eyes.
The best part about this look? You can easily adjust it to your personal beauty preference. If Chopra's approach is too bold for you, opt for a softer pink and skip the black cat-eye.
Ahead, The Zoe Report rounded up the exact products Dubroff used for Chopra's 2019 Beautycon makeup look. Shop everything, below.
Shop The Products