Priyanka Chopra Just Wore One Of Her Boldest Looks Yet — Here's How To Channel It
Jared Siskin/Getty Images Entertainment/Getty Images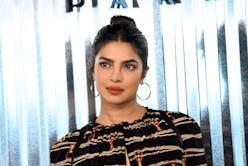 Maybe it's her Bollywood upbringing that makes Priyanka Chopra so bold when it comes to clothes. You can always trust that her outfits will turn heads, whether because of color, texture (remember all those pre-wedding feathers?), or an edgy print. The actor's penchant for snakeskin, for instance, is apparent in her latest look, which Priyanka Chopra paired with an epic longline jacket for one of her bravest off-duty ensembles yet.
This actor is absolutely fearless in the fashion department. She's got every designer wrapped around her finger, yet she refuses to stray too far from her Indian roots, always incorporating traditions from her homeland into her chic looks.
Now, Chopra is representing a Middle Eastern designer on the rise. In 2018, WWD called Madiyah Al Sharqi (the daughter of the ruler of Fujairah) "one to watch." Since, the designer has earned the approval of India's biggest fashion icon.
On Tues., Chopra appeared on the set of The View in perhaps her boldest street-style look to date. The former Miss World wore a pair of gold snakeskin pants with a matching metallic longline jacket from Madiyah Al Sharqi's Spring/Summer 2019 collection.
The $925 jacket is floor length and features half-puffed, half-lace-with-paisley-print sleeves. Chopra removed the waist belt for an open front, yielding a regal flowy look.
Madiyah Al Sharqi's most recent collection is inspired by former first lady Jackie Kennedy's trip to India in 1962, Vogue says. Pastel colors, printed crepe, and stripes are all part of the theme, as well as red, inspired by the elephant ride Kennedy took with her sister while in Jaipur.
The Indian scheme suits Chopra's signature style so well. And when paired with a bold-print pant, this combination is a match made in fashion heaven. Channel this trailblazing trendsetter immediately with these Chopra-inspired bold pairings, curated by The Zoe Report, ahead.
Shop The Look