Priyanka Chopra Just Carried The Most Affordable ASOS Bag (& It's Still In Stock)
Vittorio Zunino Celotto/Getty Images Entertainment/Getty Images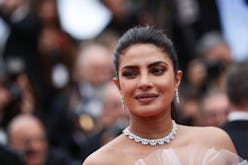 If you were to look through Priyanka Chopra's handbag collection, you would expect to see plenty of Dior, Adeam, Bottega Veneta, and Bvlgari. What you wouldn't expect to see is a $30 clutch from ASOS. The burgundy transparent bag Priyanka Chopra recently debuted on social media shows she can be a budget shopper, just like you.
This Bollywood icon is known for her high-brow style. She'll wear a runway look pretty much anywhere, including to the airport (which she's done before). So, while her aesthetic is utterly delightful to look at, it isn't often what the everyday girl might call attainable.
That's why on the rare occasion that Chopra sports something within a reasonable price range, it's a big deal. This is one of those moments.
The see-through triangular clutch she flaunted in Mon.'s Instagram Story probably costs less than what you spent at happy hour last weekend. In fact, you might have scrolled right past this trendy, rust-colored accessory on one of your recent late-night online shopping escapades. That's because it hails from the affordable brand you and your bank account rely on the most, ASOS.
Currently on sale for less than $30 (yes, really), the bag looks immensely chicer than its price tag, with royal gold hardware and a metallic top handle. Its sharp box shape and transparent exterior make it look like it's been copped from some Summer 2019 runway.
Chopra must have thought so, too, because she didn't hesitate to carry the inexpensive accessory with her four-figure yellow Dalood separates and $400 brass hoop earrings.
It's the first time the Quantico actor has worn something from your go-to budget brand, although she did wear another $30 bag by another one of your favorites, Mango, just last week. Her newfound affinity for inexpensive statement bags just goes to show: You can have designer style without actually wearing designer clothes.
Add this super-affordable clutch to your summer rotation immediately.
Shop The Look