Priyanka Chopra Defined Winter White In The Prettiest Faux-Fur Coat
Andreas Rentz/Getty Images Entertainment/Getty Images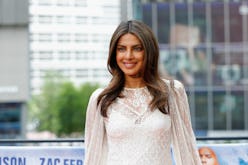 Priyanka Chopra just gave everyone a little taste of how elaborate her wedding will be. The actor's friends dressed in red and black over the weekend while the bride-to-be wowed in pearly whites, sequins, feathers, and the like. Priyanka Chopra's bachelorette party wardrobe will leave you awestricken and sporting white all winter long.
On Mon., the actor's Instagram revealed some of her biggest style moments yet. For her bachelorette party in Amsterdam, Chopra wore a white form-fitting mini dress that was decorated with elaborate beading, all-over sequins, and wintery designs in sleek nude. The piece was impressive enough on its own, but the fabulous floor-length duster she sported over it completed her super-chic look. A curtain of crisp white feathers, the whimsical layer was the stuff of your haute-couture dreams.
"Featherweight Champion of the world," Chopra captioned her Instagram photos. Both pieces were the works of Beirut-based Lebanese designer Georges Chakra.
Later in the evening, when the chilly temps approached, the 36-year-old threw on a plush, ankle-length faux-fur coat by Hugo Boss. The ultra-luxe outer layer featured oversized lapels and a single hook-and-eye closure, but Chopra left it undone to show off the extravagant combo underneath.
Get The Look
This wasn't Chopra's first all-white ensemble from her bachelorette weekend in the Netherlands, though. She actually kicked off her party in another feathery getup — this time, a cozy off-the-shoulder sweater dress with knee-high snakeskin boots. The actor's matching high socks and cream-colored coat set the look off as she set sail on the city's picturesque canals.
Feathers have certainly been the theme of Chopra's bridal style so far. The week before she and her posse descended on Amsterdam, she had a Breakfast at Tiffany's-inspired bridal shower at the Blue Box Café in New York City, to which she wore a strapless Marchesa gown with a feather-adorned skirt. The actor accessorized with nude Christian Louboutin pumps and a Tiffany & Co. necklace, of course.
Perhaps her repetitive feathers are foreshadowing for the big day. It's probably safe to assume that Chopra will meet her groom Nick Jonas at the alter wearing a feathery bridal gown. And while you likely aren't planning one of the biggest weddings in Hollywood right now like Chopra, there's no reason why you shouldn't work little bits of her latest looks into your own winter wardrobe.
This fall, Gigi Hadid, Eva Longoria, and even Duchess Meghan Markle have all defied the age-old rule that forbids wearing white after Labor Day. The key to wearing white throughout the wintertime is to incorporate season-appropriate textures and materials, such as Chopra's feathers, thick furs, and heavy knits. Copy the actor and layer a cream-colored coat over a crisp white combo to break up the monochromatic tones a bit.
Inspired by Chopra's bachelorette weekend looks? Ahead, The Zoe Report's favorite fall-ready whites.
Shop The Look