Priyanka Chopra & Nick Jonas Hosted Another Wedding Reception — & Her Outfit Was Perfect
Rob Kim/Getty Images Entertainment/Getty Images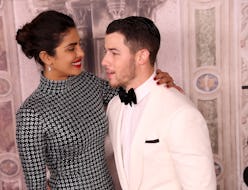 Just when you thought the epic chain of events surrounding the Jonas-Chopra wedding had been left in 2018, the couple threw yet another party to prove that they aren't done celebrating just yet. The bride gained extra attention for each unique look worn at the countless celebrations that made up their big day, and the latest addition to her wedding collection did not disappoint. Priyanka Chopra's fourth wedding reception outfit embodied her personal style, combining various elements of her previous nuptial looks.
Chopra's post on Instagram gave fans an inside look into her most recent wedding reception on Jan. 27, an intimate event for family and friends in North Carolina. Rather than holding another lavish function, the couple's families joined together once again at Nellie's Southern Kitchen in Belmont, a restaurant owned by the Jonas'.
Although her Instagram image doesn't clearly showcase her latest reception ensemble, a few paparazzi shots gave fans a clearer look at the gorgeous gown. Similar to some of her other wedding looks, the strapless white midi dress featured silver embellishments and a sleek A-line hem. She offset the sparkly appliqués with silver, pointed pumps, and a glossy, blown-out hairstyle.
Chopra sweetly captioned the image, "Fam jam," thanking Jonas' mother and father for "a wonderful reception!" "We love you! This was amazing," the actor wrote.
She posed with her mother, her brother, and other members of her family along with her groom's parents, who hosted the event. Similar to the overarching theme of the entire Chopra-Jonas union, the families seamlessly combined their respective cultures by wearing traditional Indian garb at the American-inspired restaurant.
Likely closing out their long string of celebrations, this was one of the only events held in the United States. Starting with a bridal shower at Tiffany & Co., the couple then jet-set to India where they participated in traditional religious ceremonies like puja (worship), mehndi (a tattooing ceremony), and both Hindu and Christian services.
After their reception in Jodhpur, two additional receptions were then held in Mumbai. Chopra was decked out in a range of custom looks, including colorful Indian dresses and sets to a western-style lace gown by Ralph Lauren.
There's no way to tell if the couple will ever truly be done enjoying the festivities, but their latest party was a worthy closing point.