Princess Beatrice's Black Jacket Will Convince You To Try Out The Fringe Trend
Shutterstock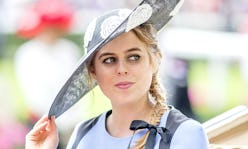 Kate Middleton and Meghan Markle get all the credit for royal fashion these days, but Princess Beatrice of York is quite the trendsetter, too. The fringe jacket she layered over her dress in London on Thurs. proves she's taken a few tips from the runways of Spring 2019 Fashion Week. Princess Beatrice's black jacket will inspire you to introduce fringe into your fall wardrobe immediately.
The Princess wore a royal-blue mini dress with metallic black patterns to Loulou's in Mayfair Thurs. evening, but it's the jacket she paired it with that you'll want to copy ASAP. Princess Beatrice opted for the Cortado Fringed Crepe Jacket by Galvan, an ultra-sleek black piece with fun swishy fringe. The jacket is elegant enough for a royal, but it features a fun trend-forward twist.
Perhaps Beatrice stopped by the private club for a cocktail in advance of her sister Princess Eugenie's wedding next week. On Oct. 12, another royal will walk down the aisle of St. George's Chapel at Windsor Castle, the church where Prince Harry and Meghan Markle also tied the knot. Eugenie will marry her longtime boyfriend Jack Brooksbank in front of the entire royal family with sister Beatrice standing by her side as maid of honor.
Get The Look
Although Princess Beatrice's outfit probably won't push the envelope on her sister's big day, she certainly likes to incorporate the latest trends into her own personal style. Recently, she attended the US Open in New York wearing a black dress with a contrasting collar. In June, Beatrice dressed for The Serpentine Summer Party in a peacock-print midi dress with a black leather jacket.
It's no surprise that the royal is now trying her hand at fringe. Elements of western-themed fashion have been sneaking into modern looks all year long, and the emerging fringe trend is yet another example. During Spring/Summer 2019 New York Fashion Week, however, designers like Oscar de la Renta and Tom Ford showcased dramatic dresses and full-fringe skirts, taking the design feature away from its cowboy roots and suiting it to a more contemporary look.
Princess Beatrice's jacket is a prime example of a chic piece with a bit of fringe. Work the trend into your own fall wardrobe with a subtle swishy hem on a trouser or along the arm of a jacket, or go bolder and tuck your fall sweater into a full-fringe midi skirt.
Inspired by Princess Beatrice's black jacket? Try the fringe trend yourself with The Zoe Report's handpicked pieces, ahead.
Shop The Look