The Genius Prada Ponytail Hack To Try ASAP
Andreas Rentz/Getty Images Entertainment/Getty Images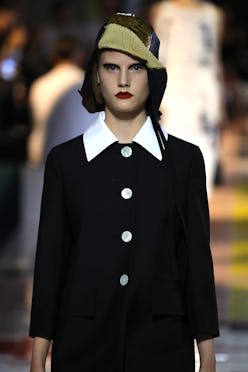 For a roving reporter, nailing down who the Prada girl is can prove to be difficult. One season, you'll get sleek and soft. And during another, you'll get beach blonde dye jobs. For Prada's Spring/Summer 2020 beauty look though, lead artists Pat McGrath and Guido Palau worked to create one look that somehow covered both subtle and extreme aesthetics.
"You know, I've done this show for a long time," Palau, Redken Global Creative Director, tells a small group of reporters backstage at the Sept. 18 show in Milan, Italy. "So I understand [Miuccia Prada's] journey of what we've done and where we've been. She's very hands on with beauty. It's a very important part of her aesthetic. We try many things — we don't just do one thing where she goes 'Oh, right.' She's eagle-eyed on detail with me and Pat as she is with the clothing. There's very rarely a picture reference. It's more of a feeling she's trying to create on the runway."
Today's feels? "Very much a little bourgeois with a real edge," McGrath says of the makeup. "It's really someone who has a real sense of style, but they don't have to try hard. The look was natural for most of the girls, and there's a real strong look using black wet eyeshadow from Mothership V with the Permagel Liner Pencil greased onto the eyelid in a really strong arch. No mascara, clean skin, then Elsa lipstick on the lips."
And granted, the look look (done on 10 models) isn't for the faint of heart: "It's really about a woman who has no fear of makeup," McGrath describes. "She has a strong look and wants to express herself. She has no worries in the world. She's not like, 'Is this what is trendy? Is this what is happening? What is now?' It's just really about her sense of style. She's strong, with her own identity." Oh, and if you were wondering: Yes, the models with the drawn-on arches bleached their brows to make the look even bolder. "It's a real subversive twist in beauty. It's real power," McGrath smiles.
As modern as the makeup was, Palau kept things classic for hair. "It's got a nod to the '20s, with a deep side part and 'geesh," he says, explaining the English slang term for sideburns. "With Prada, it's all in the details. There are little things [we do] to change the hair from being simple and classic. The high shine in the front is a little mannish touch. The hair at the moment looks like it's tight in a ponytail," he says, pointing at a model in his chair, "but it's going to be pulled out and will look much like a bob in a way. When the hair is on the runway, it's going to feel like looser hair. But we're not trying to do faux bobs at all. We're trying to nod to the idea that it's a little messy, so it feels nonchalant."
Hero products for the low-do include Extreme Play Safe, a heat protectant which helps smooth the hair. Then he secured the look with Triple Pure 32 Hairspray to create a high shine, which "gives a sort of toughness to it," he notes.
For the natural girls, he aimed to shape their curls in a "really smart and kind of controlled way," he says. "We didn't want to force it too much. I still wanted individuality. Often when the girls come in, Miuccia likes how they look" — a true testament to the Prada girl being every girl.