Why Robin Wright And Karen Fowler Created Pajamas That Make Bedtime A Luxury Again – Exclusive
@pourlesfemmesofficial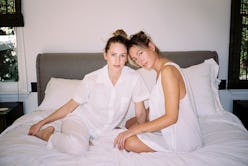 On average humans are asleep for one-third of their lives. That constitutes a need for clothing that's just as comfortable as what you're wearing the other 66.6 percent of the time. This was exactly what led Robin Wright and Karen Fowler to found Pour Les Femmes, a sleepwear brand that prioritizes both luxury and comfort. "Karen and I have been friends for over 25 years," explains Wright, adding that Fowler's design background helped spur them into business when they couldn't find a product they liked on the market. "Karen went, 'why don't we build it?' That was the inception of the idea to go into sleepwear."
What the duo could not anticipate is the fact that after the brand was founded in 2014, pajamas would become part of the everyday wardrobe, "After we launched, it became such a trend to wear sleepwear [during the day]," explains Fowler. She adds that they wanted to keep the focus on sleep and continue to use cotton as the main material, but that customers — and Fowler and Wright themselves — have co-opted the items for daytime. "Robin once wore one of our jumpsuits to Fashion Trust Arabia awards in Qatar. We wear them under blazers or with jeans." She also notes that the brand's cotton nightdresses have become a popular layering piece for customers. "We sell our long nightgowns and women will layer them with beautiful cashmere sweaters and put boots on. The same thing with some of our nighties, they wear to the beach as a cover-up."
The duo have worked in tandem to create a business that's not only profitable, but thoughtful. Select pieces including certain pajamas and travel bags are created by women in the Congo as part of the Give Work program. "We practice closed fashion, we don't do mass production," says Wright. "We hand cut our garments and we really try not to waste anything. We pay a fair wage, which comes at a cost." She adds that one of the brand's biggest challenges has been educating the customer on the price of production and why it's important to invest in slow fashion. Pieces range in price from $68 for a small travel bag up to $525 for the label's wrap dress. "It's like if you shop at Whole Foods, you're buying better products and it costs a little more," she says. "It's the same with fashion. People are slowly understanding the weight in wanting to buy something of quality. That's what we're all about."
Sustainability has become a stronger part of the sartorial conversation at large, but Fowler explains that long-standing industry practices can make it difficult for big box retailers to meet them at the table. "One of the biggest challenges is getting retailers to change the way they do business," she says. "From the kind of bags that we are allowed to ship in, to the hangers that change six times before it hits the rack ... Robin and I are also trying to change that. We need to cut out the plastic. We need to cut out those hangers. These guys have been in business for a long time and it's hard to get them to change the way they do business."
The make of a successful modern brand is in its ability to create community and a greater message beyond what it sells. You can look to labels like Outdoor Voices and Glossier who have built entire communities and cult followings around their designs. Pour Les Femmes is now beginning to explore new territories, extending the brand beyond sleepwear. The duo recently launched their first men's pieces, and plan to move into bedding and perhaps candles, as well. "Our vision is to take back that time around sleep," explains Wright. "The ritual around bed and sleeping well. You hear all the things you can't do. You shouldn't have your cell phone. You turn off your computer, but we want to make an experience that is just nice surrounding bed and bedtime."
Shop items from the current collection below: