7 Giving Tuesday 2019 Initiatives You Should Totally Get Behind This Season
VRAI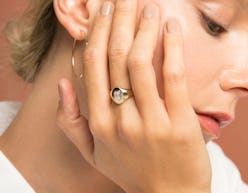 While Black Friday and Cyber Monday have come to an end, Giving Tuesday is just getting started, which means you can continue your holiday shopping while also giving back to those in need. Whether you're buying treats for yourself or others, consider shopping one of the many brands and retailers who are supporting charitable causes with their Giving Tuesday 2019 initiatives this year. 
A global movement that promotes charitable giving during the holiday season, Giving Tuesday falls on the first Tuesday after Thanksgiving. There are so many ways to get involved this year, from making a donation to lending your time or voice to a cause; however, you can also participate by shopping from the brands that have been gathered below. And though this initiative is relatively new by comparison, there are a wide range of categories offered— meaning there's sure to be something for everyone,
Just ahead, you'll find everything from fine jewelry and accessories to pajamas and ready-to-wear, which will not only be great gifts, but purchases that support an even bigger cause. It's the season of giving after all, so continue on to see and shop a selection of brands taking part in Giving Tuesday this year.