Pomelo Is Bringing Back Its Sustainable Fashion Line — & It's Here For Good This Time
COURTESY OF POMELO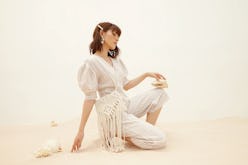 Known for its on-trend, affordable clothing and accessories, fast fashion e-tailer Pomelo stepped into the sustainable world in 2018 with its first standalone collection. However, now the online shopping destination is taking it one step further, making Purpose, Pomelo's sustainable line, a permanent fixture among its product offerings.
Building off the success of the initial release of the Purpose collection in 2018, Pomelo is charting new territory by establishing a long-term sustainable line, being the first Southeast Asian digital fashion brand to do so. This year, it'll release three collections, with the first arriving on April 3.
"Pomelo's Purpose collection is so named as it presents us with an opportunity to lead the way in terms of bringing sustainable materials and processes to the fashion industry in the region," said David Jou, CEO of Pomelo Fashion, in a press release. "Purpose is a collection that brings the best of tech, sustainability, and design together to form a beautiful collection of minimal but fashionable pieces."
Pomelo is kicking off the Purpose line with 36 pieces of spring-ready styles that are entirely made with ethically-sourced fabrics and natural color dyes. And, they're just as wallet-friendly as the rest of the brand's styles, with nothing ringing in for over $60.
As for what you can expect to find? The collection, inspired by the sea, includes feminine tops, breezy dresses, and flowy pants (among other silhouettes) in of-the-moment colors like sunny yellow, light pink, and coral, as well as an eye-catching teal.
Neutral hues of navy, white, beige, and black are also in the mix, with one standout style being a striped, puff sleeve jumpsuit in a sand-like shade for $55.99. However, if you're looking to embrace color, peek at the yellow Peasant Midi Dress, $45.99, and snag the Lace Up Peplum Blouse in Pantone's color of the year for $39.99. Pair the playful top with everything from Purpose's bright white high-waisted culottes to your favorite denim.
Purpose is also implementing eco-friendly practices when it comes to how items are packaged. When you shop the aforementioned styles and more from the line, you'll receive the product in packaging that uses 60 percent less plastic.
Continue on to see and shop 10 pieces from the latest Purpose collection, and head over to the site to view the rest.