Pippa Middleton Just Wore The Duchess' All-Time Favorite Shoe Brand
Clive Brunskill/Getty Images Sport/Getty Images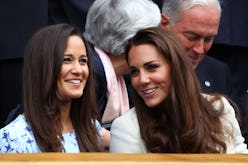 The best part about having a sister has got to be sharing clothes and, in that sense, the Middletons are just like the rest of us. Their closets are full the same brands and occasionally even identical pieces (Castaner wedges: case in point). Now, Pippa Middleton is wearing a pair of velvet sneakers that share a label with the duchess' all-time favorite boots.
Kate Middleton's impeccable taste in fashion certainly rubbed off on her younger sister, Pippa, seeing as they often step out in almost the exact same outfits — sometimes by accident, other times probably not.
One thing they definitely have in common is their undying love for British footwear designer Penelope Chilvers. You probably already know that the Duchess of Cambridge has been sporting the same Chilvers riding boots for more than a decade now, but what you don't already know is that her sister, Pippa, is also keen on the brand (perhaps even more so).
Espadrilles, slippers, and flats with fun summer prints — the 35-year-old has shopped every department of this designer's lot. This time, she debuted potentially the coolest shoe of all. On Tues., Middleton went out for her regular walk with baby Arthur in a flowy white dress and navy-blue velvet tennis shoes.
Motherhood has done wonders for this socialite's sneaker collection. Middleton is now constantly spotted pushing her pram around London while sporting whatever tennis shoe du jour. From her Jimmy Choo chunky white trainers to her snake-print sneaks by Cocorose, the honorary royal sure does know her stuff when it comes to a walking shoe.
Her extensive athleisure collection wouldn't be complete without at least one pair from her favorite footwear staple, of course. These velvet sneakers are the perfect combination of comfortable and chic to keep Middleton's feet simultaneously on-trend and cozy.
The exact Paradise Velvet trainers are sold out, unfortunately, but you can still recreate Middleton's on-the-go outfit with these cool-girl approved velvet sneakers, ahead.
Shop The Look