This Hair-Color Trend Is On Its Way Out, According To Pinterest — Here's What To Try Instead
Sephora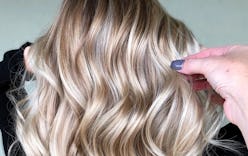 Even though summer is fast approaching, you may be realizing it's time to break up with heavy-duty bleach — at least, just for a few months. Fortunately for you (and your hair), Pinterest's trending hair colors for summer prove that the quest for brighter-than-life platinum blonde may finally be slowing down. In fact, data the social media platform discovered in April shows that searches for "platinum blonde" fell by 26 percent year over year. But which color could possibly seize platinum blonde's icy throne?
Read more: A Brunette To Blonde Hair Transformation Is Easy, If You Follow These Steps
As you may've guessed, another shade of blonde was quick to win over the internet's heart. While that may not surprise you, the name probably will: It's known as mushroom blonde, an ashy blonde-brunette mix that's shockingly versatile. Not quite light, yet also definitely not dark, it wins points for being the perfect transitional color.
Pinterest users have been quick to embrace the new trend, too. (Though really, does this surprise you?) According to the platform, searches for "mushroom blonde" are up by an impressive 308 percent year over year. And judging by all the mushroom blonde pictures that have accumulated on the platform, there's no wrong way to do the shade; you can lean into its gray tones, use it as a way to subtly grow out your roots, or keep it as a cool, all-over color.
The battle of the blondes isn't the only trend to catch Pinterest's eye, though. Following 2018's rose gold hair trend, Pinterest took a look at colorful hair shades — and as the popularity of rose gold drops (searches have fallen by 44 percent), the "fire hair" trend rises. 90 percent more Pinterest users looked for the flame-inspired color year over year, proving that it may be one to try out this summer if you're feeling especially bold. And if that's too tame for you, you could always take another one of Pinterest's top trends for a whirl: Searches for "split hair color" have risen by a massive 298 percent (as compared to "colorful ombre", which is down by 29 percent year over year).
Already saving all of the mushroom blonde pics you can find? Keep scrolling down to shop a few products that'll make maintaining the ashy color that much easier.