Penelope Cruz Proved Her Chicness Yet Again With Sequins & Feathers At The 'Pain And Glory' Premiere
John Phillips/Getty Images Entertainment/Getty Images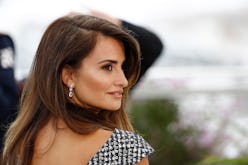 Since becoming a Chanel girl, Penelope Cruz has upped her chicness by a thousand degrees. The 45-year-old barely leaves the house now without sparkles, feathers, or a full-on elaborate gown. In fact, that describes the sequin dress Penelope Cruz wore to Thurs.'s Pain and Glory premiere perfectly.
If there's an RSVP from this Spanish icon, you can expect her to show up in something over-the-top stunning. This past spring, she made her catwalk debut on the Chanel runway as the fashion house's new ambassador.
Since then, she's been reaching her full fashion potential with that ethereal white gown at the Pain and Glory premiere in Madrid, the throwback tiered dress she wore to the Met Gala, the floral ballgown she sported in Cannes, and the list goes on.
The latest, however, has to be one of her best style moments yet. Thurs. marked opening night of the Academy Award winner's new film, Pain and Glory, in London and Cruz's red-carpet look did not disappoint.
The actor opted for a light-pink, mid-length gown embellished with what seemed to be millions of sequins and rows of white ostrich feathers on the straps and skirt. The masterpiece hails from Ralph & Russo's Fall 2019 couture collection.
A dress like this deserves a detailed breakdown, starting with the corset-style bodice, adorned with opal stones and pink crystals that catered to Cruz's shape impeccably, down to the flouncy, feathered tiers on her pencil skirt. It was worthy of a fairytale, to put it simply.
Cruz accessorized the sparkly piece of art with strappy gold stilettos and a matching clutch. She wore her hair up in a tousled updo and kept her jewelry subtle — a simple pair of drop earrings — to let the dress speak for itself.
The actor has grown rather fond of the high fashion house that is Ralph & Russo, also sporting the brand earlier this year at the Golden Globe Awards (remember the black halter gown?). This angelic number, though, is much more reminiscent of the white tulle gown by Chanel she sported in March.
There's certainly been a noticeable shift in Cruz's style since taking her inaugural stroll down the runway in Paris, but we can probably all agree that it's for the best. It's only a matter of time before the actor's next couture moment strikes, but there's always this dazzling crystal-and-feather gown to marvel at in the meantime.