The Cult-Favorite Peach & Lily Mask That Keeps Selling Out Is Finally Back In Stock At Ulta
Peach & Lily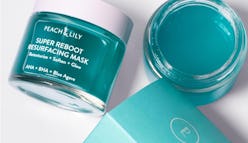 If you missed it the first time around, you're far from alone. Celebrated K-Beauty brand Peach & Lily's Super Reboot Resurfacing Mask is finally available again at Ulta, after selling out within minutes upon its initial release in July. The potent-yet-gentle treatment has earned super-mask status amongst beauty junkies, so don't be surprised if it sells out again – fast.
Peach & Lily founder Alicia Yoon is known for steering clear of harsh chemicals in favor of naturally occurring compounds to deliver effective products safe for even super-sensitive skin. That's the idea behind the instant favorite Super Reboot Resurfacing Mask, which aims to "de-gunk" pores while simultaneously soothing skin. The result? A refined, glowy complexion.
The key ingredients in this $43 blue wash-off mask are AHA and BHA — better knows as alpha hydroxy and beta hydroxy acids — as well as blue agave, a natural source of glycolic acid. If you wince at the sight of the word "acid" — a bad chemical peel experience will have that effect — don't worry: The 10 percent AHA and 0.5 percent BHA in the formulation are some of the gentlest acids out there, activating cell turnover without irritating most skin types.
Plus, the addition of hyaluronic acid, aloe, chamomile, and other calming additives will make sure skin retains moisture and looks radiant, not red. Reviewers on Ulta's site confirm a slight tingle after application, a sign that the acids are doing their work, but claim any discomfort subsides within minutes. More importantly, it doesn't result in any lingering inflammation.
If you're wondering whether or not this mask is right for you, consider the numerous benefits it promises: Looking to unclog pores so your skin can breathe? Hoping to boost collagen for a reduction of fine lines? Just chasing the glow? All of the above are proclaimed outcomes of using this resurfacing mask. And since it's back in stock — for now — you can see for yourself.
Snag your own jar of the cult-fave mask below, and shop some of Peach & Lily's other highly rated products while you're at it.