How To Wear Pat McGrath's New Holiday Collection, According To Pat McGrath
Khalea Underwood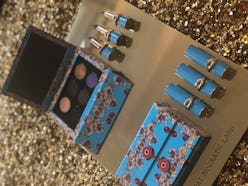 Most beauty lovers will have similar holiday wishlists: a set of fluffy brushes, a limited-edition palette, or perhaps a Sephora gift card to save friends and family from the all the fun guesswork of deciding which shade you want. There are only a few beauty lovers who will be lucky enough to be #blessed with the Pat McGrath Labs 2018 holiday collection — not just because it's limited edition, but because previous collections have sold out in a matter of minutes, and history always repeats itself. However, if you are lucky enough to get your hands on the beautifully packaged, highly pigmented goods, Mother (for the not-yet-anointed, that's what beauty editors affectionately call McGrath) says that the beautifully packaged lipsticks and eyeshadow palettes are meant for every holiday moment — and beyond.
"It's incredible, fun, opulent, rich, and perfect for holidays," McGrath told an intimate group of reporters at her holiday preview, her preferred way to show new products. "When you love the outrageous and the opulence, you don't hide away from it. You'll wear a sparkly lip in the day. It's not just for night anymore, or weddings, or parties. People just wear it now, and that's what's great. It's freedom of self-expression."
After all, self-expression is the core of McGrath's artistry — and some of her very first products, like the Gold 001 shadow and her glittering Lust 004 kits, were made to fill that void. "People were like, 'I need a gold everyday somewhere in my life,'" she recalls. "Lust 004, everyone wanted that in the day and night. There's a hunger to be free rather than to be told [what to do]. People are into being themselves, and that's what happened with makeup. We've watched [the evolution] for the last 20 years. It's moved from [being on trend] to... a real expression of yourself."
That's not to say that Mother isn't looking out for the beauty minimalists. Glowing skin was "always my thing," she says, calling the no makeup-makeup look the "beginnings" of a look. Various pigments from her repackaged Dark Star, Metalmorphosis, and Bronze Temptation palettes can easily double as a subtle highlighter if you use a light hand and a fan brush. But why wouldn't you want the world to see your McGrath goods?
Or, if you want to preserve your precious palettes (personally, I've only opened one out of the five that I own), that's understandable, as it's probably what McGrath would do, too. "I was always that girl who went into the drugstore or department store and bought everything that attracted me," she recalls. "Makeup has a magpie quality. I was the child going into store [looking at] new packaging and buying 10 or 15 bronzers. Even if I didn't have my own line and wasn't in makeup, I would be the crazed woman running into every makeup store and buying everything."
Oh, and for the friends who remind you that you already have multiples of the same product? "You don't want to go shopping with them!" Mother's orders.
Ahead, see every product from the Pat McGrath holiday collection — and get to shopping.