Celebs Are Ditching Their Gowns For This Sleek Trend At The 2018 Emmy Awards
Frazer Harrison/Getty Images Entertainment/Getty Images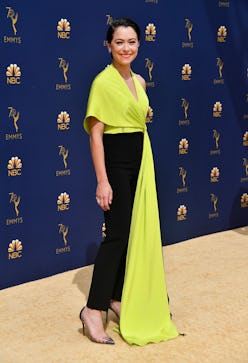 Awards shows are known just as much for the entertainment as they are for the incredible gowns that glide across the red carpet; they're usually big, often shiny, and always fun to look to drool over. But while it's inevitable that many stars will show up with a show-stopping dress, sometimes they'll surprise us with something different. This year? Celebs are wearing pants in lieu of the traditional fancy dress. And with stars like Issa Rae, Maika Monroe, and more sporting the look, it's safe to say that pants are a 2018 Emmy Awards trend to know.
Rae, who was nominated for Best Lead Actress in a Comedy Series for her role as Issa on HBO's Insecure, but lost to Marvelous Miss Maisel Rachel Brosnahan, showed up for the night wearing a baby blue custom Vera Wang number, which towed the line between gown and pants for a unique take on a red carpet look. The star said in a red carpet interview that her V-neck gown had more than 3,000 crystals on the bodice, which opened up at the front to reveal a matching pair of drapey, wide-leg pants. Similarly, Evan Rachel Wood — who's nominated for Lead Actress in a Drama Series for her role as Dolores on Westworld — wore an all-black gown-pantsuit hybrid: Her black, floor-length tuxedo blazer, which she adorned with a blue ribbon to show support for the ACLU, was also open at the front; underneath, she wore a matching pair of wide-leg, floor-length pants. The entire look was custom Altuzarra. She previously told Vanity Fair that she planned to stick with pantsuits during the 2017 awards show circuit after she walked the 2017 S.A.G. Awards red carpet in a blue velvet pantsuit, which was also custom Altuzarra: "I've always wanted to do it. I promised myself this year that I would wear a suit to every awards show," she told Vanity Fair at the time.
Some celebrities, however, eschewed gowns completely. Tatiana Maslany, who was also nominated for Lead Actress in a Drama Series for her role on Orphan Black, showed up in black pants and a dramatic neon green top designed by Christian Siriano. Actress Maika Monroe, who you know from her role in 2017's Hot Summer Nights, wore a white fringed Stella McCartney jumpsuit and Giuseppe Zanotti heels to walk the gold carpet with her boyfriend Joe Keery.
Clearly, pants are making it big at the on the red carpet — and with how well the stars are pulling this piece off, it's sure to be copied over and over on red carpets again soon. Missed the perfect pants looks that graced the Emmy Awards red carpet? Keep scrolling to see which celebs got in on this trend and how they wore the looks.