This Jewelry Designer Is Changing The Way You Think About Ear Piercings
Courtesy of Pamela Love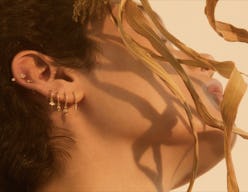 Accessories are arguably the most exciting part of putting together an outfit and, let's be honest, one can never have too many pieces of jewelry in their arsenal. But when it comes to those of the piercing kind, you no longer have to skimp out on quality for uniqueness thanks to Pamela Loves's piercing collection. And leave it to the cult jewelry designer to master the art of creating safe, yet drool-worthy designs.
New York native, Pamela Love began making jewelry in her Brooklyn apartment more than a decade ago and has, over time, amassed a following among the fashion elite, with clientele like Aimee Song and 2020 Oscars-nominee, Cynthia Erivo. With an emphasis on spirituality, the sustainable designs (which you've probably seen all over Instagram) follow themes of astronomy, astrology, and alchemy, featuring everything from snakes and daggers, to sizable scarabs.
The new collection is chock full of all the brand's signature motif and is designed to be compatible with just about any needle found at your local piercer, which means you no longer have to wait until your piercing heals to swap out the earring for something more elevated. With styles starting at $190, it's proof that you don't have to break the bank to enjoy a new piercing. But, if you're looking for something that feels a little more luxe, turn to the lineup's diamond-encrusted styles for $800 to help you round out your collection.
When it comes to planning your own "earscape", it's best to make the most of the small space with wow-worthy pieces. Try switching up a helix piercing by opting for a dainty hoop like this Italian horn design. However, if you're going for a full on glam, compliment the eye-grabbing hoops with any one of the pavé studs that are equally as charming. With the early aughts on the rise and the trends of the '90s back in full effect, it's safe to say the piercing trend isn't going anywhere anytime soon so it's worth trying before completely writing it off.
If you're planning a trip to your piercer, visit the brand's website on Jan. 14 to shop the offering in full.