OUAI Just Launched Its First Body-Only Product — & It's *So* Unique
Courtesy of OUAI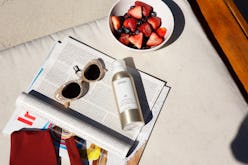 "I think we've all been there," Jen Atkin, celebrity hairstylist and OUAI Haircare founder, tells The Zoe Report over email. "You're having so much fun in the sun and get back to your hotel and notice you maybe had too much fun." And she's right — it's something everyone knows far too well. Regardless of your SPF application, being out in the heat can make your skin feel like it desperately needs some moisture. So, with summer right around the corner, Atkin and the brand dreamt up OUAI's After Sun Body Soother. After you're done frolicking in the sun just spray on the $25 body moisturizer — it instantly bubbles on your skin, cooling you down with aloe leaf juice, cucumber extract, and rose hip oil.
Available on OUAI's website April 24, the After Sun Body Soother is unlike any of the brand's previous products, or really, anything else out there. The product chartered new waters for the brand; OUAI states in the After Sun Body Soother's product description that the brand named it after what it does — it soothes your skin, moisturizing like a lotion with a bonus icy burst. Atkin calls it an "at-home cryotherapy experience," adding "it gives you an amazing ASMR sound for your social!" (You can hear the Pop Rocks-esque sound effect on OUAI's official Instagram, too, which teased fans pre-launch with a video of the crackling product.)
Even OUAI fans who steer clear of the sun have a reason to celebrate this release — it's OUAI's first body-only product launch. "Because we are constantly having conversation with our community, it was a natural next step to move into the body space," Atkin says. "Our customers love on-the-go products that you can throw in your bag so it only felt right to create a summer essential with an updated twist on the ingredients."
Using the After Sun Body Soother seems to be as easy as OUAI's Hair & Body Shine Mist — a multi-purpose body spray that quickly became a fan favorite. All you need to do is spray the foam wherever you need hydration, and the cooling formula will do the rest of the work for you. And this new launch has a built-in perfume, too; the After Sun Body Soother is fragranced with the brand's Summer OUAI scent, a seasonally-appropriate blend of coconut and pineapple.
And what's next for the haircare and body care superstars over at OUAI? "We are definitely excited to experiment with new categories while staying true to our community's needs," Atkin teases. "I think what's fun about new brands is there aren't rules to making good products. You earn your community's trust and grow with them. More and more lifestyle brands will be the norm!"
Below, the new OUAI After Sun Body Soother.