OUAI Is Launching Its Next Body Product — Here's Exactly When You Can Buy It
Courtesy of OUAI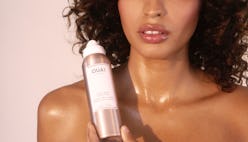 A new OUAI body care product has big shoes to fill. Both the Scalp & Body Scrub and Rose Hair & Body Oil have nearly flawless 5-star ratings on the brand's website, and illustrate what OUAI fans have come to expect from the haircare company: Its body care products will work wonders for your hair, too. But judging from the glossy, glowing pics previewing the new OUAI Hair & Body Shine Mist, the brand's latest hair and body care product won't disappoint.
As you may be able to discern from its name, the Hair & Body Shine Mist is made to be sprayed all over your hair and body. The finishing mist is infused with real diamond powder, which reflects light and creates a radiant, full-body glow. A 3.8-ounce canister of the mist will retail for $32 — and OUAI recommends on the product's page to start out with just a small spritz of the mist, then go back for more if you'd like.
You'll be able to pick up your own can of the mist on the OUAI's website Feb. 14; however, you can sign up to the waitlist starting Feb. 7 to be notified when it drops. Which may be a smart move, since OUAI has been teasing fans on Instagram with pics of the mist's rose gold can, label-free, building major hype for the release.
But the mist does deserve any social media hype it gets. Besides the buzz-worthy diamond powder, the mist is formulated with squalane-rich amaranth oil in addition to just plain squalane. Together, the two condition and moisturize your skin and body over time, so you'll glow once the diamond powder washes off.
What exactly is squalane, though? Originally sourced from shark liver oil, squalane's use in skincare is about to explode — the mega-hydrating ingredient works on all skin types since it's naturally a part of your skin already. It also works as an emollient, aka a skin-softener. That said, while it may be tempting, OUAI notes you should avoid spraying this mist on your face. (There are plenty of squalane face oils you can try after if you love how it feels.)
OUAI also revealed that the mist is scented with the brand's out-of-stock Melrose Place perfume. Though the scent is used in other OUAI body care products, getting it as a lightweight, buildable mist — that also moisturizes and makes you glisten — is probably a dream-come-true for those that fell in love with it as a stand-alone product.
Want to get your hands on the mist ASAP? Follow the link below to sign up for the Hair & Body Shine Mist's waitlist.