Oscar De La Renta's Spring/Summer 2020 Makeup Looks *Very* Different Than Normal
Astrid Stawiarz/Getty Images Entertainment/Getty Images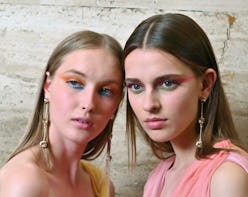 Although most of my fashion week duty is back of house, I always try to stick around to get a sneak peek at Oscar de la Renta — the show always brings a touch of otherworldly glamour to the runway, in an era where everyone is competing to outdo each other. The glam tends to fall along the same lines — sleek, ballerina updos, blushed cheeks, and graceful contouring. So you'd imagine my surprise at Oscar de la Renta Spring/Summer 2020, where the models were rocking neon two-toned eyeshadow looks that could simultaneously work on the runway and at Rolling Loud.
"Today for Oscar, we are celebrating individuality and confidence," Tom Pecheux for MAC Cosmetics tells me. "I think there are two different ways to express your confidence and your individuality. It's either to make yourself beautiful but in a very transparent way, where you're comfortable with your natural beauty." And the second? " You can express a feeling and a piece of your personality in a very exuberant way. We all have that. Sometimes we have those feelings where we want to scream and go crazy. You know those times where you see people being crazy and you go, 'I wish I could do that.' We all have that. Today, we're expressing that full fantasy. The girls wearing the look are not afraid to let it go and let the fireworks happen."
To create such fireworks, Pecheux and his team used two different combinations — either in pink and yellow, pink and orange, or blue and green — to create very "strike-y, colorful, elongated eyes. "It's always a duo of colors. On the eyes, we always want that strike. We're just doing a tiny dash under the eyes and on the inside, too." Said colors include Coral Reef and Mint Condition from MAC Visual Arts, which launches in October, teamed with Chrome Yellow Eye Shadow, Bright Pink Powder Blush, and the must-have Paint Sticks which were layered underneath for more impact. Everything else on the face was a bit subdued, as to not take away from the eyes: The new Studio Fix Soft Matte Foundation Stick on the skin, light strokes of Shape and Shade Brow Tint in the models' natural hair colors (set with Clear Brow Set), and generous layers of Haute & Naughty Too Black Lash Mascara for added drama. And on the lips, just a tiny bit of Lip Conditioner — a stark contrast to the fiery red lipstick seen last season.
When I asked Pecheux how he chose who got which color combo, he admitted that there wasn't much thought to it. "I just follow my feeling," he smiles. "Let's be crazy, no?" It's a testament to the same spirit of individuality that's been consistent throughout the season — you'd be hard-pressed to find a show where all of the models had the same hair, makeup, and nails. And for that, he rejoices. "Because at the end of the day, I think it's very interesting to not be stuck in one space," he notes. "Society is always telling you to move forward. To move around. I think it's good not to be stuck in one character, but to play different ones."