This New Nail Polish Brand Just Launched Its First Collection & It's Going To Majorly Change Your Manis
Courtesy of Orosa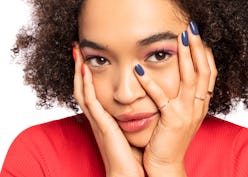 Two universal truths that basically everyone can agree on are as follows: A good manicure is an everyday essential, and it's best if said manicure doesn't put pure, and frankly unnecessary, toxins directly onto your skin and nails. Thankfully, it's becoming much easier to have the best of both worlds as beauty brands offer up more effective chemical-free alternatives that also happen to make for incredibly stunning manicures. The latest to join the no-toxin nail polish tribe? Orosa's summer nail polish collection, which boasts a groundbreaking 14-free formula in six stylish, versatile shades. Right this way for your best at-home mani ever.
The cosmetics industry is going through a serious makeover, and while it's borderline terrifying to learn about the toxins and other yucky ingredients that you might've previously exposed yourself to, the clean-beauty movement also means that you've got an increasing pool of better-for-you options to choose from. Newer, more natural brands are popping up left and right to put a fresh spin on your beauty essentials, from plant-based skin care to nail polish that says no to questionable chemicals. And as for the latter, you need look no further than Orosa.
New-on-the-scene nail polish line Orosa combined everything you want in a nail lacquer — rich, opaque color, a quick-dry formula, no-chip wear — and then painstakingly removed everything you don't by way of its Nope List, a compilation of 14 harmful, unethical, and questionably no-good ingredients you'll never see in its products.
The vegan polish, which promises to go on streak-free and opaque with two coats, is free from formaldehyde, DBP, parabens, toluene, xylene, gluten, and several other potentially harmful additives that other nail polishes may include to improve finish and wear. Orosa's Pure Cover Nail Paint also happens to be a one-and-done formula to make at-home manicures a breeze — its quick-dry formula and cuticle-hugging brush glides over nails to ensure two coats is all you need of seamless, even, and full coverage.
The clean beauty brand debuted this summer with six bright polish shades, $12 each, which range from a wear-with-anything white called Snow and a sandy-peach shade dubbed Moon, to bolder options like goldenrod hue Star, violet-blue color Twilight, and a citrus-inspired red-orange called Clementine. A sweet, perfect-pink hue called Blossom rounds out the collection and is sure to become a go-to for everyday work and play to exciting occasions like weddings.
Could your polish collection use a clean start? Shop Orosa's beautiful and better-for-you range of nail colors, below.