Olivia Wilde Just Made Chocolate-Colored Smoky Eyes A Thing
Jemal Countess/Getty Images Entertainment/Getty Images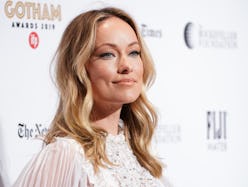 Glitter, neon hues, delicate little lines drawn on with skillful precision: all proof that eye makeup is getting more futuristic (and complicated) by the day. Through it all, Olivia Wilde is staying true to her smoky eye and signature winged liner and she's taking home best beauty of the night with it, too. Her look at the Hollywood Critics Association Awards is proof that you don't need to be a certified cosmetologist to give yourself the best smoky eye in the room.
Thurs. was Wilde's night. The film she directed, Booksmart, took home three awards including Best Female Director, not to mention she wound up being the talk of the red carpet. She wore a whimsical metallic and floral Etro gown that made her look like a bohemian princess and with it, an ethereal black opal necklace that simply couldn't help but be the center of attention.
Jo Baker covered her on the beauty front and, in case you're not already familiar, that woman is the literal queen of eye makeup. Baker is the one behind all of Lucy Boynton's polarizing looks, from the "lobster lines" to the Art Deco-inspired sparkly lids she debuted at Sun.'s Golden Globes.
The celebrity makeup artist's Instagram feed is full of peculiar masterpieces: red cat eyes for Karen Gillan, "paper clip wings" for Mackenzie Davis, and another Boynton look that was actually inspired by Tim Burton's Corpse Bride.
Needless to say, Olivia Wilde's chocolate-colored smoky eye is the tamest thing she's done in a while.
Finally, red carpet-worthy eye makeup that you're not profoundly intimidated by. This stunning, wintery smoky eye is more interesting than the most basic black variety, but not so trend-forward that it would scare the everyday girl away.
The coffee-colored tones are softer than stark black (especially on lighter complexions), eliminating the potential of going full goth by accident. Baker used matte eyeshadow to balance out the shimmer in Wilde's dress and that hypnotizing necklace, keeping the rest of her makeup — a touch of blush and a swipe of neutral lipstick — subdued.
So, put on your best Stevie Nicks-inspired dress and rock a chocolate smoky eye in the name of Olivia Wilde this weekend. Some of The Zoe Report's vanity staples and a few easy steps to recreate the look, ahead.